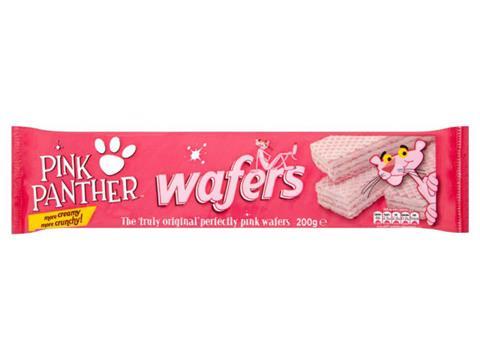 The own-label biscuit supplier behind the Pink Panther branded wafers has collapsed, with the loss of 99 jobs, after the Brexit-related fall in the pound pushed the struggling business over the edge.
Rivington Biscuits slumped into the red in 2015 as its sales declined 10% to £15.8m, but the pressure on margins and cashflow worsened in the aftermath of the EU referendum in June.
The sharp decline in sterling pushed up the costs of producing biscuits, which Rivington has struggled to pass on to its supermarket customers, and sent losses spiralling to several hundred thousand a month since June.
Administrators at FRP Advisory, which was appointed by Rivington's Dutch owner Van Delft on Tuesday (13 December), are seeking a rescue deal for the business.
However, 99 of the 123 staff in the Wigan factory have been made redundant, with the remaining workforce kept on to fulfil supermarket orders for its own-label pink wafer biscuits, as well as the Pink Panther branded product.
The Grocer understands that half the workers have already registered claims with the Redundancy Payments Service in the hope of receiving payment before Christmas.
"A sustained deterioration in trading conditions and significant additional pricing costs since the summer following the sharp fall in the value of the pound, left the business facing unsustainable cash-flow pressure," joint administrator Russell Cash said.
The administrator encouraged any parties with an interest in acquiring the business to come forward.
Biscuit manufacturer Van Delft, which bought Rivington in 2009, has pumped £7m into the Wigan factory to improve the business.
The inflationary pressures facing food and drink suppliers since Brexit was thrust into the public eye in October as Unilever and Tesco were embroiled in a dispute over rising prices. 2 Sisters, which supplies chicken to Tesco and other supermarkets, this morning warned that 2017 would be its toughest ever year as a result of currency-driven inflation.