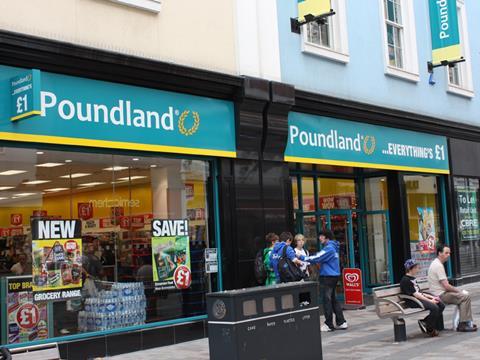 Poundland shares plummeted to a record low after it confirmed its intention this morning [Thursday] to raise £50m through a share placing to help fund the £55m acquisition of 99p Stores.
The shares hit a low of 284.73p, at one point this morning, still below the 300p float price in March last year, and taking it well below the £750m it was valued at when it floated.
Independent retail analyst Nick Bubb said the equity placing should not have come as a big surprise.
However, what would raise eyebrows was the news that "indications are that 99p Stores' financial position has weakened somewhat since our original due diligence" and that, because of tough trading comparables – like-for-like sales are down 2.9% – and higher pre-opening costs, "we anticipate the group profit before tax for the first half of the current financial year will be lower than in the first half of 2015."
However, Bubb pointed out that Poundland said the full year was on track and that the 99p synergies remained compelling. But the discount to Wednesday night's closing price of 310p might be more than Poundland would have hoped.
Jefferies said it remained buyers of the shares with potentially more acquisitions to come. It noted that management were targeting 1,400 UK stores and confirmed they still planned to open 60 stores a year.
Poundland's shares climbed 5.5% to 348.5p after the Competition and Markets Authority provisionally cleared the 99p Stores deal on 25 August. At one point they had climbed to 415p, pushing market cap to past £1bn in February when the 99p Stores deal was announced.