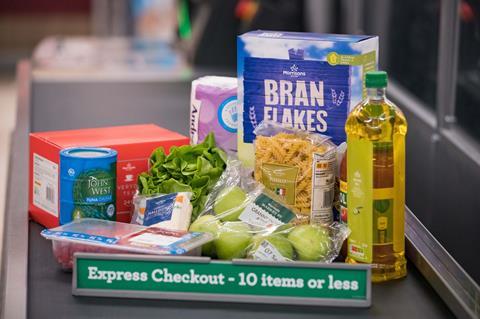 Morrisons' actions to slash prices across hundreds of products has driven the supermarket into annual deflation to retake the position of the leader amongst the big four supermarkets on price inflation.
The Bradford-based supermarket recorded annual deflation of 0.4% in October across more than 12,000 SKUs analysed by the Grocer Price Index (GPI), collated by Edge by Ascential.
This marked a decrease over recent months from inflation of 0.6% in August and flat annual pricing in September. It was only the second time in the past year Morrisons has outperformed rivals in terms of price inflation.
Morrisons cut prices by an average of 23% across 400 staple products in early September. The annual price drops were most pronounced in fruit & veg (–6.2%), meat, fish and poultry (–2.8%) and dairy (–1.7%).
The overall GPI rose from zero in September to 0.2% annual inflation in October.
Tesco moved back into inflation, with prices up 0.9% last month, having been in deflation of 0.8%, while Asda saw inflation of 0.2% and Sainsbury's 0.1%.
Waitrose, not included in the overall GPI, saw its rate of inflation rise from 0.1% in September to 0.7% last month.
Despite the small rise in the overall GPI, the index remains well down on the post-lockdown inflationary high of 2% caused in April amid a sharp cut in the number of promotions.
On a category basis, 10 of the GPI's 14 categories showed inflation – led by baby goods (2.3%) and health & beauty (1.6%). Categories remaining in annual deflation included household (–0.7%), dairy (–0.7%) and fruit & veg (–0.5%).
On a month-on-month basis, the GPI remained flat, with the index at its lowest absolute level since December 2019.