Alec Mattinson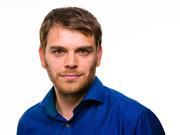 Alec leads The Grocer's expanding coverage of all things finance-related.
Contact Info
Tel:

01293 610512

Email:
Recent stories
A snack firm that repurposes otherwise discarded fruit into air-dried crisps is seeking cash from the crowd

Premier Foods may finally be delivering on its promises of progress after announcing stellar second-quarter sales

Premium snack brand Pipers Crisps is eyeing up potential acquisition targets in the UK and overseas after hiring advisers to conduct a strategic review of the business, plus all the rest of the latest news from the City.

Media Bites 17 Nov: 2 Sisters, Asda/Walmart, P&G

Subscription

Media Bites 13 Nov: MRH, Tesco, Nisa, Unilever

Subscription
Recent blog posts
It turned out the roasting of the Tesco board at today's AGM was more of a light grilling

Investors must be concerned about the lack of clarity over when Tesco expects its strategy to bring returns.

Never mind what this week's figures reval, Tesco is still a fundamentally strong business.
Alec Mattinson contributes to: