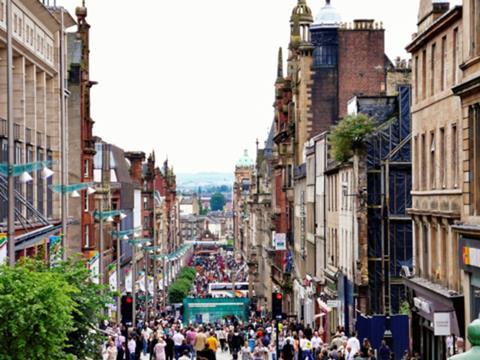 Top story
Footfall in May was 0.3% up on a year ago after a significant upturn in shoppers on the high street, according to the BRC-Springboard footfall and vancancies monitor.
The 0.3% increase was up from a 2.4 per cent decline seen in April and significantly above the three-month average rate of -1.7 per cent.
High street footfall increased 1.2% per cent in May, representing a huge leap from the 4.7% decline in April and the best high street figures since July 2013 (excluding Easter distoritions).
Footfall in retail park locations increased 1.2% up from the 1.1 per cent rise in April, while shopping centre footfall fell 2.1% in May after dropping 0.7% in April.
BRC chief executive Helen Dickinson said: "With total footfall figures up and High Streets seeing a reversal in fortunes, today's figures offer some respite from the relentless downward trend we've seen building in recent months.
"However, we know from our recent data that it's online, rather than stores, that has driven May's sales upturn. Footfall up and store sales down gives credence to the trend of an increasing use of the high street for leisure activities and the researching of purchases made online either later or on the move through mobile devices."
Morning update
It's a quiet start to the week this morning with no news of note from the stock market.
The FTSE 100 has opened 0.4% lower at 6,094.8pts this morning and the pound has fallen to its lowest level against the dollar for two months after weekend polls suggested the likelihood of the UK voting to leave the EU was increasing.
Poundland (PLND) could have a tough week ahead after falling 5.2% this morning to 161p after weekend reports that its full-year earnings will be worse than the market's already low expectations on Thursday.
The threat of Amazon Fresh is weighing heavily on Ocado (OCDO) shares, which have fallen 3.5% to 235.4p this morning. Also falling is Conviviality (CVR), down 3% to 197p and Carr's Group (CARR), down 2.3% to 142.9p.
The few risers include McColl's Retail Group (MCLS), up 5.6% to 153.1p, PureCircle (PURE), up 2.4% to 307.2p and AG Barr (BAG), up 0.7% to 526p.
This week in the City
It's not the busiest week in the City calendar, but with the UK's vote on continued membership of the EU now just 10 days away the conversation around Brexit will continue to dominate newsflow.
The one company update of note is Poundland's (PLND) full year earnings release on Thursday after a difficult period for the single price discounter following its acquisition of 99p Stores. The gloss has come off Poundland shares due to the a less than seamless integration of 99p Stores, which has seen Poundland shares dip from a high of 371.3p in August last year down to 129.3p in April. The shares have since recovered somewhat to 169.8p by close on Friday.
There will be plenty of media interest in goings on at Westminster this week too, with under-fire Sir Philip Green scheduled to be grilled by the Parliamentary inquiry into BHS on Wednesday should he decide to attend.
In wider economic news, Tuesday brings the update from the Office of National Statistics on inflation in terms of the latest Consumer Price Index and Retail Price index figures.
Thursday brings the official monthly retail sales figures from the ONS and the Bank of England's monthly interest rate decision, with no movement expected in this uncertain time from the UK economy.