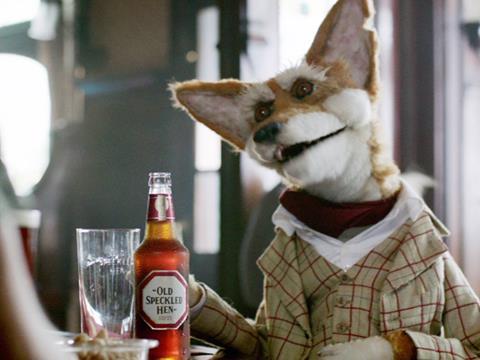 Greene King's (GNK) take home volumes grew by 12.4% in the 24 weeks to 18 October as the Rugby World Cup helped to boost sales of Speckled Hen.
Greene King said that its 'hen' family of brands attracted close to a quarter of a million more customers compared with this time last year, while demand for Greene King IPA was boosted after China's President Xi's drank the beer on a recent visit to the UK.
Hen volumes up 8.9%, while the on-trade brand refresh contributed to volume growth of 6.9% in Greene King IPA, which has significantly increased exports to China and President Xi's visit.
Brewing and brands revenues grew 4.7% to £95.4m while operating profit grew 5.1% to £14.5m, leading to a 10bp increase in the division's operating margin.
Despite "ongoing market challenges" OBV was up 3.6%, including additional volumes to Spirit pubs and against the UK ale market up 0.8%.
The brewer said NPD helped to drive growth in the division, with the period including the launch of 'Old Spirited Hen' and East Coast IPA. Overall NPD accounted for 9.3% of OBV, up from 5.8% last year.
Overall group revenues were up by 49.2% to £614.9m thanks to the integration of the Spirit Pub Company, with pre-tax profit up 46.9% to £82.6m.
For the Greene King business only, revenues were up 5.4% to £648.4m, with pre-tax profit up 5.9% to £87.5m. Greene King like-for-like retail sales were up 2%.
The Greene King estate saw a 9.9% increase in sales before 5pm as it enjoyed strong growth in both food and drink.
Rooney Anand, Greene King CEO, commented: "It has been a strong first half, with the Greene King business strengthening and significant progress made in the Spirit integration. Like-for-like sales growth in Greene King Retail improved during the half and both Pub Partners and Brewing & Brands delivered profit growth and margin expansion.
"We believe we have the best portfolio of retail pub brands, the best pub assets and the most talented team which, when combined with the strong contribution from synergies and the benefits of our enlarged scale, will ensure we continue delivering value to our customers and our shareholders."
Greene King shares soared 9.5% to 932.8p in morning trading – an all-time share price high.