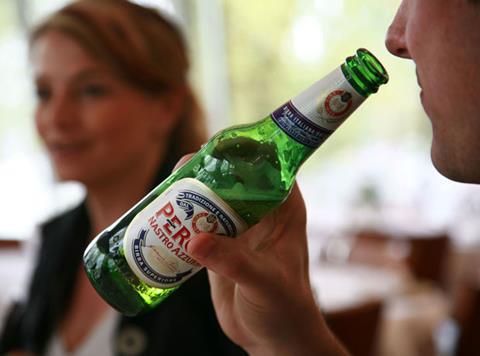 Top story
SABMiller (SAB) has reported a 5% hike in full-year net producer revenue (NPR) as momentum increased in the second half, volumes rose 2% and it benefited from better prices and mix.
The group also increased NPR, which takes into account excise and taxes, 7% in the final quarter with volumes up 4%
However, as a result of the currencies it trades in all over the world being devalued in the face of the strong US dollar, SAB' reported revenues for the quarter declined 4% and by 8% in the full year.
CEO Alan Clark said: "We have had a strong year and increased momentum in the second half across all our regions notwithstanding economic volatility and the potential distraction of the AB InBev offer.
"Our results reflect our strategy to expand the beer category and to grow and premiumise our diverse brand portfolios."
The group, which is in the middle of a lengthy takeover process by AB InBev, also reported increasing momentum in lager volumes over the year with growth of 3% in the second half and fourth quarter.
For the full year, premium lager brand volumes grew by 6%, supported by global lager brands volume growth of 9%.
This week Japanese brewer Asahi agreed a £2bn deal with AB InBev to acquire two of SAB's premium lager brands, Peroni and Grolsch, as well as the Meantime brewery, to help ease the £71bn 'mega-brew' merger through the competition process.
SAB is particularly strong in Latin America and the group grew NPR by 8%, underpinned by strong growth in Colombia. NPR also increased 11% in Africa, one of the key regions AB InBev wants access to, with beverage volume growth of 6%.
In Europe, group NPR grew 2% and beverage volumes were in line with the prior year, with a 1% decline in lager volumes offset by soft drinks volumes up 2%. NPR rose 5% in the UK, with beverage volumes up 3%, and a favourable brand mix a result of the continued growth of Peroni Nastro Azzurro offsetting declines in Miller Genuine Draft and the Polish brand portfolio.
SAB shares have dipped slightly 0.1% to 4,255p on the markets opening this morning.
Morning update
Pernod Ricard has increased organic sales 1% in the third quarter to €1.86bn but the figure fell 4% on a reported basis because of weakness in emerging market currency. Growth in the quarter went backwards (-3%) as a result of the earlier Chinese New Year but part shipment phasing in the US helped offset the fall, the group said in a trading update. Revenues for the first nine months of Pernod's financial year totalled € 6.81bn, with organic growth of +3% and reported growth of +4% thanks in particular to a positive US dollar impact.
The year-to-date performance was driven by strong growth in the Americas (+6%), modest growth in Asia-Rest of the World (+2%) and "resilient" sales in Europe (+1%).
Chairman and CEO Alexandre Ricard said: "Our sales growth to date at +3% is solid in an environment that remains contrasted. Our strategy has remained consistent and is driving results: innovation is accelerating; operational excellence is driving efficiencies; our ongoing initiatives in the USA are starting to deliver; we are working actively to develop the new phase of growth in China, where we remain confident in the medium-term potential despite the tough current context."
Ricard also confirmed the group's full-year guidance of organic growth in profits of between +1% and +3%.
Coca-Cola reported a tricky first quarter yesterday as weakened demand in Europe hit profits. The drinks giant's income before taxes fell more than 4% to $1.98bn, compared with $1.89bn a year ago. Sales for the quarter were also down from $10.71bn for the first three months of 2015 to £10.28bn despite global volumes rising 2% as the strong US dollar hurt revenues coming in from outside its domestic market.
European sales declined 1%, while Latin America recorded a drop of 12.2%. Diet Coke and Cherry Coke volumes also lagged behind in North America, Europe and the Middle East and Africa, with the performance helped by Fanta and still drinks.
"We continue to transform The Coca-Cola Company into a company that is focused on our core value creation model of building strong brands, enhancing customer value and leading our franchise system," said chairman and CEO Muhtar Kent. "Amidst a challenging global macro environment, the continued focus on our five strategic initiatives enabled us to gain global value share in the first quarter and deliver positive top-line growth and strong underlying margin expansion. Our operating results are driven by our commitment to sustainable growth, and we are confident that we have the right strategies in place to achieve our full-year outlook and drive long-term value for our system and shareowners."
Yesterday in the City
Poundland's (PLND) surge continued yesterday with the shares, which Credit Suisse said were undervalued, rose another 10.1% to 177.8p. It puts the stock up by almost 30% this week.
Premier Food (PFD) had another miserable day with its share price falling another 4.4% to 41.31p.
Fizzy drinks giant Coca-Cola (KO) slipped almost 5% to $44.37 after reporting a fall in first quarter profits as demand for its products weakened in Europe.
Other fallers yesterday included Fever-Tree (FEVR), down 4.7% to 596.3p, Cranswick (CWK), down 3% to 2,287p, and McColl's (MCLS), down 3.2% to 165.5p.