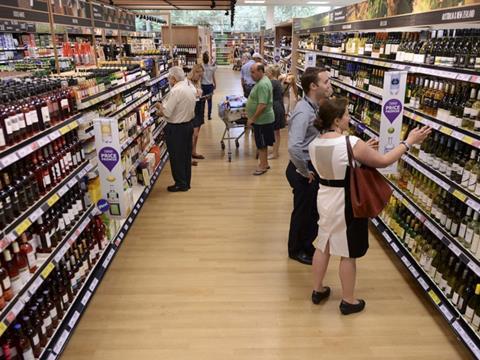 Top story
Supermarket deflation hit a new record level last month as price cuts and low oil prices continued to drive industry-wide deflation.
The Grocer Price Index, which measures the price of more than 60,000 SKUs across the big four using data from Brand View, fell to -2.9% year on year in the month to 1 March 2016, exceeding the previous record of -2.8% seen in the previous month. This suggests the deflationary picture, far from easing after almost two years of falling prices, is actually accelerating.
Notably, this latest drop came on the back of a comparative period for the month to 1 March 2015, when prices were already falling by 2.2% year on year. This means supermarket prices are currently
All of the big four are in deflation, but Tesco has overtaken Morrisons as the biggest cutter, with its prices down 3.2% year on year.
Click here for the full story.
Morning update
On a typically quiet Friday morning, The Grocer has the story that revenues at Baxters Food Group rose 40% to £226m in the 52 weeks to 30 May 2015 thanks to its key acquisition of US business Wornick Foods during the period. See the full story here.
The FTSE 100 has rebounded 1.6% to 6,131.8pts on opening today, almost wiping out yesterday's losses.
Most stocks are on the up this morning, in the FTSE 100 grocery sector Diageo (DGE) is leading the way up 1.8% to 1,884p.
Sainsbury's (SBRY) is up 1.6% to 270.3p and Tesco (TSCO) is up 1.5% to 191.5p. Morrisons (MRW) has regained some ground, rising 0.8% to 194.5p.
Marks & Spencer (MKS) is one of the sector's few fallers, dropping 1.7% to 400p so far this morning.
Yesterday in the City
Morrisons (MRW) reported a solid set of annual results yesterday with earnings and profits before restructuring charges and tax bang in the middle of City expectations.
However, the supermarket's shares dropped 4.5% in trading yesterday back to 192.9p despite the general consensus being that its turnaround is on track. The fall was a reaction firstly to Morrisons' sharp share price rise over the past few weeks which has seen it recover 50% of its value since mid December. Secondly, the City was reacting to the news that its dividend was being slashed by nearly two-thirds in 2016/17 – a cut that is not particularly surprising, but had potentially not been fully priced in to the shares.
Bulmers marker C&C Group (CCR) had a better time of things yesterday after saying that trading in the last quarter of the year "provides grounds for optimism" as performance picked up in Scotland. C&C was 5.6% higher at €3.70 yesterday.
Elsewhere, there were falls for B&M European Value Retail (BME), down 3.9% to 272.7p, Tesco (TSCO), down 2.4% to 190.5p, Booker (BOK), down 1.8% to 160p and Diageo (DGE), down 1.7% to 1,850.5p.
The FTSE 100 generally had a bad time of things yesterday, dropping 1.8% to 6,036.7pts another steep slide in oil reversed earlier gains made after the European Central Bank's decision to cut interest rates and extent its quantitative easing efforts.
Other than C&C Group, risers included McColl's Retail Group (MCLS), up 5% to 153.3p, Conviviality (CVR), up 2.4% to 222.8p and AG Barr (BAG), up 1.7% to 547p.