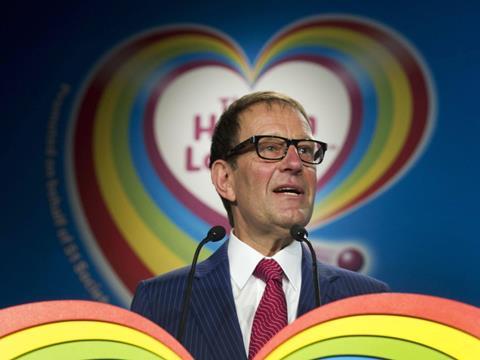 Richard Desmond has admitted he "might never" get back his original investment in the health Lottery, as it revealed retailer numbers had plummeted more than 20% since launch.

Speaking at an event to celebrate the "Landmark" sum of £50m raised for charity since the Health Lottery's 2011 launch, Desmond said hitting the £50m mark was a "major milestone".

The Health Lottery part of Desmond's Northern & Shell business, had previously said it would raise £50m in year one. However it has been struggling since launch, recording losses of £15.2m for the six months to July 2013.

To "drive footfall into store, create more winners and give our retailers a reason to sell more Health Lottery tickets" the Health Lottery this week unveiled a three-for-£2 promotion, which would run until 31 July and deliver an additional 50% margin to retailers.

However, retailer numbers slumped from more than 40,000 to 32,000, which a spokeswoman attributed to "fluctuation", adding that it cut back a "tranche of retailers recently for compliance reasons". She declined to be drawn on numbers but said the company was working with the NFRN to identify sales opportunities to increase sales.

The Health Lottery claimed it benefited from sales when Camelot relaunched the National Lottery in October 2013 and doubled its price point to £2. But one independent retailer said while there was an initial rise in sales, it had since failed to "attract any new customers" and didn't deliver much profit. "In our store we do about £3,000 a week on National Lottery and barely £100 on Health Lottery," he said.

However, director of marketing and sales Mimi Turner stressed the aim of the Health Lottery had "always been to help create a pipeline of funding for local communities for the long term" and said the Health Lottery was "very happy to have got to where we are.".

In February, CEO Dominic Mansour resigned from the company after one year in the role. He was the second CEO to step down from the business, following the departure of Simon Hall in 2012 just six months after launch. It will now be run by Martin Ellice, joint managing director of Northern & Shell, and no replacement would be sought, Turner added.