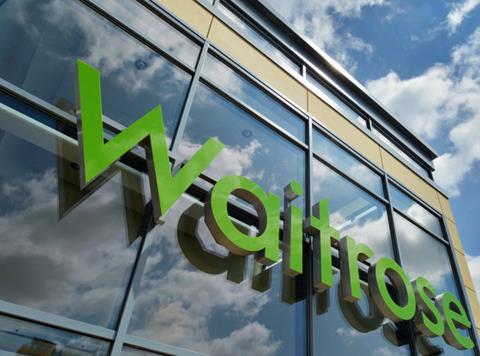 Top story
Like for like sales at Waitrose were down by 1.4% in the six weeks to 2 January, the John Lewis Partnership has announced this morning.
Gross sales (excluding fuel) were £859.8m, up 1.2% compared with last year.
Waitrose said that peak trade came "particularly late" this year and was more concentrated than usual in the days before Christmas. The supermarket said it had record trading days on 23 and 24 December, with sales up 6.0% and up 5.5% respectively.
Online grocery sales were up 7.9%, with sales over the Christmas and New Year weeks up 9.8%. Sales through direct services websites - including wines, hampers, flowers and kitchen gadgets - grew by 28.1%.
John Lewis gross sales were £951.3m, up 6.9% compared with last year and up 5.1% on a like-for-like basis
Sir Charlie Mayfield, Chairman of the John Lewis Partnership, commented:
"This has been a strong Christmas trading period for the Partnership despite the non-food market seeing significant shifts in trade patterns and the grocery market continuing to be challenging.
"Our performance reflects to a large extent the significant investment we have made in our distribution and IT capability. Despite the fact trade was even more concentrated across a number of very busy shopping days, our operations performed especially well."
Expectations for profit before Partnership Bonus, tax and exceptionals for the year ending 30 January 2016 remains unchanged at between £270m and £320m versus £342.7m last year.
Morning update
Elsewhere this morning, the BRC-Nielsen Shop Price Index has found that overall shop prices saw deflation of 2.0% in December from the 2.1% decline seen in November.
Food reported annual deflation of 0.3% unchanged from November's rate. On a 12-month average basis, the Shop Price Index reported deflation of 1.7%, with non-food deflation decelerating to 3.0% from 3.3% in November.
Mike Watkins, Head of Retailer and Business Insight, Nielsen, said: "We can expect the current levels of deflation across the retail industry to continue for the first half of 2016. There is little upward inflationary momentum from global commodity or oil prices and locally, the price war in food retailing looks set to continue.
On a day of few market announcements, PureCircle (PURE), the global producer of stevia ingredients, has issued a trading update for the six months to 31 December 2015. Sales in 1H FY16 are expected to be at least US$54m, an increase of 25% against 1H FY15 (US$43m) with sales growth across all global sales regions. The Group expects gross margin, EBITDA and net result all to increase significantly compared to 1H FY15.
The FTSE 100 is 0.9% down to 6,079.5pts this morning.
Most major grocery stocks are trending downwards. Tesco is down 1.9% to 141.7p, while Unilever (ULVR) is down 1.6% to 2,806.1p.
Bucking the trend are M&S, up 1% to 439.3p, and Sainsbury's has recovered a small bit of the ground it lost yesterday, rising 0.2% to 242.6p.
Yesterday in the City
There's no doubt the big story of the day was Sainsbury's (SBRY) surprise admission yesterday lunchtime that it held buyout talks in November with Argos owner HOME Retail Group (HOME).
The approach was rebuffed by the Homebase owner as it undervalued the business according to Home Retail, but Sainsbury's has a deadline of 2 February to make a formal approach.
Home Retail's shares shot up 41.1% to 139.3p on confirmation of the approach, which followed media talk that private equity funds were eying a bid for the struggling retail group. However, Home Retail's shares remain well down on the 219.3p they were trading at in January last year after a troubled 2015.
The market seemed less convinced of the benefit to Sainsbury's of the potential tie-up, with Sainsbury's shares dropping 5.2% to 242.1p – the largest fall in the FTSE 100. Analysts were scratching their heads over the viability of a deal, speculating that Sainsbury's was looking to take on Amazon as the UK's leading multi-format online retailer, but that such a move come at a significant cost.
Another big FTSE 100 faller was Next (NXT), which said that store retail sales had fallen in the run-up to Christmas – it fell 4.6% to 6,860p yesterday. The news took down a number of general retailers with it, but they recovered later in the day with Primark owner Associated British Foods (ABF) ending the day 0.8% down at 3,250p and Marks & Spencer (MKS) down just 0.1% to 435p.
The FTSE 100 recovered slightly from Monday's China-driven losses, rising 0.7% to 6,137.2pts.
Tesco (TSCO) had a better day, rising 1.5% to 144.4p after Monday's share price fall, while Diageo (DGE) was 1.6% up to 1,846p.
Finsbury Food Group (FIF) was up 2.2% to 116p and Premier Foods (PFD) rose back above 40p, climbing 3.8% to 41p.