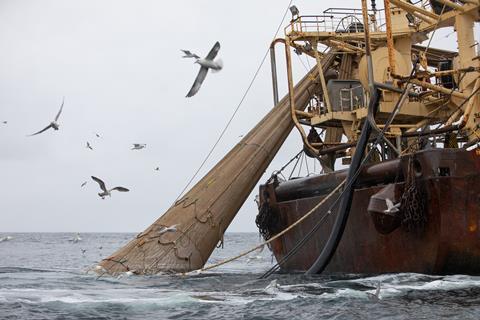 Half of the 10 most critical stocks for the UK fishing industry are overfished or their population size is critically low, a new report has revealed.
International advocacy organisation Oceana blamed the "alarming situation" on the UK government setting catch limits too high.
Of the wider total of 104 stocks analysed in its Taking Stock report, over a third were being overfished.
Additionally, when looking at population sizes, less than half of stocks (41%) were deemed to be of a healthy size with a quarter (25%) found to be in a critical condition.
The UK fishing industry relies heavily on 10 key stocks that are landed by British boats in the greatest volumes. However, the data found five of these are either being overfished, like mackerel, or have already reached a critically low population size, like North Sea cod.
"The stark fact is that overfished stocks have one thing in common: they are on course for collapse," said Hugh Fearnley-Whittingstall, chef and campaigner, who wrote the foreword to the report.
"If that is allowed to happen, the human livelihoods will go with them just as fast as the marine ecosystems they support," he added. "Our government needs to step up today to prevent the UK from losing its fish and starving its seas."
The report was welcomed by the Marine Stewardship Council's UK & Ireland programme director, George Clark, who said it "rightly highlights the urgency of the crisis facing our oceans".
The government, according to the report, regularly sets catch limits higher than scientific advice, which is why Oceana has called for the government to urgently commit to setting catch quotas in line with ICES scientific advice at sustainable limits.
"Our government claims to be striving for a 'gold standard' in fisheries management," said Hugo Tagholm, director of Oceana in the UK. "Yet they continue to ignore the science and rubber-stamp the rampant exploitation of our seas.
"It is time for the UK to show political leadership and commit to catch limits in line with the science and a clear and ambitious strategy to end overfishing," Tagholm added.
But in response to the report a Defra spokesperson defended the government's record, saying its "priority when negotiating and setting catch limits is always to make sure that fisheries are managed sustainably, as well as safeguarding valuable fishing opportunities for the UK industry".
"In the summer we announced a package of reforms that marked a clear departure from the outdated EU Common Fisheries Policy, and which will deliver a profitable fishing industry underpinned by sustainable fish stocks and a healthy marine environment for the future," they added.
Concerns over the veracity of the report were also expressed by National Federation of Fishermen's Organisations CEO Mike Cohen, who said he had "become used to catastrophe narratives around fishing being deployed at about this time every year" and that he did not "recognise this picture".
"Dramatic predictions of crisis and collapse – often based on misunderstandings or misrepresentations of the data – attract attention and campaign donations but, year after year, they fail to come true," he added.
He explained that managing fisheries was "a complex business" with many people turning scientific evidence into actionable plans to preserve the sustainability of fish stocks, food supply and fishing businesses.
Ultimately, "there are many, complex, influences on fish stocks and evaluating stock status is not straightforward".
The complexity of these issues was also higlighted by Aoife Martin, director of operations at Seafish, who said that fish stocks can fluctuate for a "variety of reasons" citing environmental factors, climate change, fishing pressures and marine pollution among them. Additionally, "we cannot assume data poor stocks are being overfished but it is a priority for the UK to improve the data for these fishes".
It comes as a new report from campaign group WildFish, also published this week, found salmon farms are being certified as sustainable by leading bodies despite substantial marine pollution, inadequate parasite control and monthly mortality rates as high as 74%.
The report named certification bodies ASC, RSPCA Assured and Soil Association Organic, and found examples of how certification of Scottish salmon requires lower environmental and welfare standards than "could be reasonably expected by consumers".