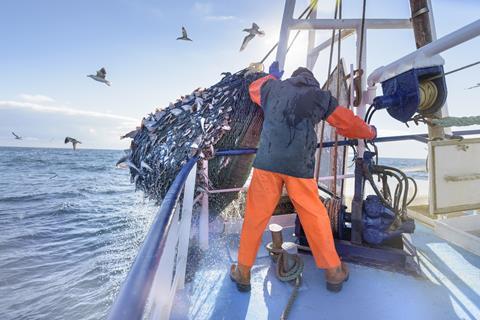 Urgent fisheries management is required, with seafood stocks plummeting across a slew of species, the Marine Conservation Society has warned.
The charity's autumn Good Fish Guide saw 53 rating changes with 19 moving down the sustainability score.
The guide included 337 ratings for seafood caught in UK seas, of which only 13% were green rated, while the majority, 62%, rated amber.
"With the majority of UK ratings in the Good Fish Guide staying on amber, it is evident the UK has yet to fulfil its commitment to achieving world-class sustainability in fisheries," said Charlotte Coombes, Good Fish Guide manager. "Urgent and improved fisheries management is imperative for the sake of our seas."
The species which moved to red ratings included west of Scotland and west of Ireland seabass due to too much fishing pressure, and English Channel and Celtic Seas pollock due to inadequate management,
A number of species also fell in ratings as they were seeing severe population depletion, including eastern English Channel plaice caught with a beam trawl, Irish sea dover sole and North Sea prawns.
Cuttlefish is one of the species mostly red rated in the guide, which reflects the need for better management and data collection. MCS said that while little was known about population size, several thousand tonnes are caught each year and mostly exported to Europe, making it an "incredibly valuable fishery".
It comes after Defra released a raft of consultations on the future management of UK fisheries, including details of a new Fisheries Management Plan, during the summer.
But these delivery mechanisms for the Fisheries Act were seen as not offering enough action or meaningful timelines by environmental organisations, according to the marine charity. The MCS also expressed concern about the number of consultations under review at the same time.
"These plans should outline clear short and long-term management options," said Dr Kenneth Bodles, head of fisheries and aquaculture at MCS. "They should bring forward strong proposals for monitoring, assessment and control, and include clear targets to restore stocks, minimise bycatch, monitor habitat impacts and maximise economic and social benefits."
He added that current plans "fail to deliver the management needed".
The society would like to see widespread rollout of cameras on boats, or remote electronic monitoring with cameras, which would monitor what's being caught and provide data to support scientists and governments in making informed decisions about how much seafood to catch.
"Data and better management go hand in hand," said Nicola Cusack, fisheries policy officer at MCS. "You can't have well-managed fisheries without knowing what's happening below the surface, and on boats.
"It's time to move on from plans and into action," she added.