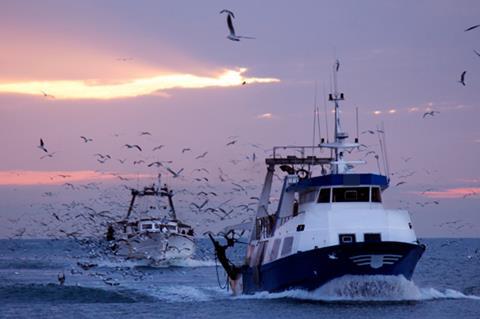 Seafood sales soared during lockdown but some parts of the supply chain are in choppy financial waters, industry figures have warned.
Data running from mid-April until the middle of July showed volume sales of chilled battered fish products skyrocketed by almost a quarter (24.6%) compared with the same period last year, with value sales up 28.2% [Kantar 12 w/e 12 July 2020].
Other chilled categories also saw solid growth against the year, with breaded (up 15.7%) and smoked (up 10.8%) benefiting from increased in-home occasions ahead of the mass reopening of fish & chip shops and the beginning of the wider foodservice unlockdown at the start of July.
Overall, the chilled fish category enjoyed a 7.9% increase in value to £482.1m.
But, in a sign of things to come, as soon as pubs and restaurants began to reopen on 4 July, nearly 700,000 fewer households bought meat, fish and poultry in shops in the following week, Kantar said.
"Chilled smoked fish – which is reliant on higher price points than other fish types – continued to grow strongly in the last four weeks [of the data period]," said Kantar insight director Jason Nixon.
"It's an important time for more premium options as family gatherings hopefully start to ramp up as lockdown measures ease further."
The good news was dampened by warnings that some parts of the seafood supply chain have little economic resilience.
"Parts of the industry have managed to do OK during the pandemic," said Seafish director of operations Aoife Martin. "Processors who supply into retail and the mults have had a fairly buoyant few months.
"The catching and domestic processing sectors have been really badly hit. Even before coronavirus pandemic hit the UK, we already had problems. We had a difficult few months over January and February with the weather, which meant quite a few boats couldn't go fishing. So there wasn't much resilience there for people to draw on when coronavirus hit."
Martin added the true extent of coronavirus' impact on the industry would not be felt until the government's furlough scheme closed down. She said she anticipated a period of consolidation in the sector after the pandemic.
Figures released by the Marine Management Organisation at the end of July showed from January to May 2020, the price of fish landed by the UK fleet was down by an average of around a fifth year on year.
Meanwhile, data for the month of June showed that despite landings being down by 13% compared with the same month in 2019, their value tumbled by close to a third to £42.5m.
The National Federation of Fishermen's Organisations described the catching sector as being in a "fragile" state.
"There's been a slow, uneven improvement in the market but if there are big landings on one day, the prices can collapse quite easily," said NFFO CEO Barrie Deas.
"Some fish is being exported and some restaurants are opening up but other markets, particularly shellfish, crab and lobster, are at the slow end of the recovery."
Deas added that government support provided earlier in the pandemic had allowed businesses to "keep their heads above water" but said there was still concern over what would happen if there were further coronavirus spikes or lockdowns in the coming months.