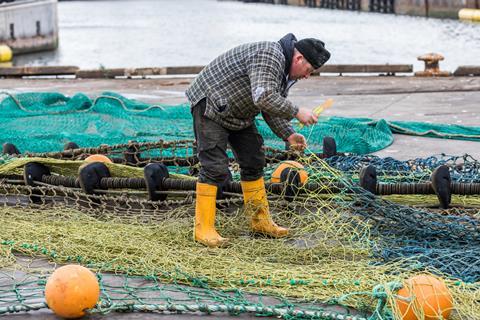 Scottish seafood producers have welcomed a £7.75m support package from the Scottish government after a promised £23m bailout from the UK government failed to materialise.
The funding will see £6.45m go towards shoring up the shellfish and trout sectors, both of which have been particularly exposed to post-Brexit export issues caused by extra customs requirements and UK trade infrastructure.
A further £1m has been designated for ports and harbours that have lost income due to the drop in catches being landed. According to Seafood Scotland statistics, a third of Scottish vessels have been tied up while others have turned to Denmark to land their catches.
Holyrood said more detail on the packages would become available on the Marine Scotland section of the Scottish government website from Friday (5 February).
Seafood Scotland said the support package would have a "tangible impact" on those affected by the Brexit chaos.
"The Scottish government has listened to industry pleas for support over the last four weeks and has really stepped up by offering such a comprehensive package," said CEO Donna Fordyce.
"In some cases [it] could save generations-old businesses from going under. With applications to the fund set to open as early as next week we're confident that businesses will start to see the support they need very soon."
The Scottish government said it had been forced to act due to an "absence of any further clarity" from the UK government on its pledge last month to provide £23m in support for seafood businesses affected by Brexit. It is understood that the funding has not yet materialised.
Defra said it recognised the "temporary issues the fishing industry is facing" but did not provide any further information on when the £23m fund would be provided to businesses.
Last week, MPs on the Environment, Food & Rural Affairs (Efra) Committee wrote to Defra secretary George Eustice to ask for the government to set out how the funding would be arranged so as to help businesses access it as quickly as possible.
Efra has also begun an inquiry into the disruption faced by meat and seafood exporters because of Brexit, with the first evidence session due to take place tomorrow (4 February).
"While news of the compensation fund for fish is welcome, we need details, and fast. It's time for the government to get its act together and set out short, medium and long-term action plans for how it will support British food exporters," said committee chairman Neil Parish.
The government has promised to set up a taskforce after the industry called for one to be set up to help smooth out some of the issues faced by those seeking to export to the EU.
A spokeswoman told The Grocer the UK government was "working with the Scottish government to set up a working group to understand and address any practical issues facing Scottish businesses, including the seafood sector".
It is understood membership will include senior officials, hauliers and agencies responsible for administering the new regulations. Defra said it already held twice-weekly calls with the devolved administration, Scottish seafood producers and exporters.
Last week, Seafood Scotland announced it had set up its own team of trade specialists with funding from the Scottish government and Scotland Food & Drink's joint recovery plan.
Export experts Alastair Kennedy and Steve Galloway have become the first two appointees and will work with Scottish businesses. Seafood Scotland said it planned to appoint a France-based consultant in the key seafood hub of Boulogne to provide support from a European perspective.
Shellfish sector 'blow'
It comes as the British shellfish sector received a further blow this week when it emerged a ban on exports of live shellfish to the EU would continue indefinitely.
Only pre-purified, ready-to-eat shellfish has been able to cross into the bloc since 1 January. The shellfish industry had hoped all live shellfish would be able to be exported to the EU by the spring.
But according to a report by news site PoliticsHome, a letter sent to the sector by the European Commission last month stated the ban would continue and would also extend to farmed shellfish.