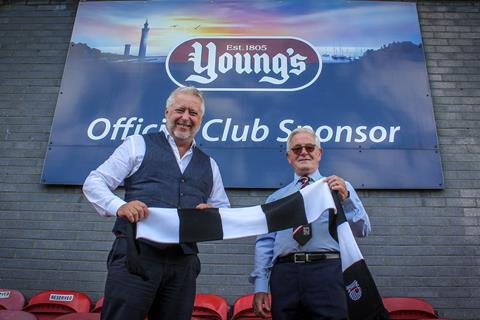 Young's Seafood has renewed its shirt sponsorship of hometown team Grimsby Town FC for a 17th consecutive season.
Announced ahead of the League 2 club's latest kit launch, the deal for the 2020/21 season marked one of the longest standing corporate sponsorships in British football, Young's said.
It will also see the supplier continuing to sponsor the Young's Stand at Grimsby's Blundell Park stadium. Employees of Young's Seafood can also receive a 10% discount on season tickets.
"Both Young's and Grimsby Town play pivotal roles in supporting the communities that make up our town," said Young's CEO Simon Smith.
"For the past 16 years we have jointly promoted health, wellbeing and inclusivity and we are proud to be continuing our support of the club."
The seafood giant's commitment was "especially important" in the face of the challenging times faced by spectator sports including football during the pandemic, he added.
"We look forward to the coming season and working with the club to help them get back to playing as soon as possible."
Grimsby finished in 15th position in the curtailed League 2 season.
The coronavirus crisis had placed "a significant strain on football, especially for those in League 1 and 2, who were unable to restart the 2019-20 season", said Grimsby Town chairman Philip Day.
"This latest deal with Young's has been a lifeline for the club in supporting us as we work to try and get back onto the pitch and until we are able to welcome our supporters back to Blundell Park."
Donated meals
It comes as Young's said it had donated more than 3,250 meals to FareShare during the pandemic, in order to support community food charities across the UK. Donated meals benefitted a total of 13 school breakfast and after school clubs, 15 hostels and supported housing for the homeless and 28 lunch clubs for vulnerable adults and older people.
The meals included a variety of fish dishes appealing to adults and children alike, and marked the beginning of a long term, national partnership between the seafood processor and FareShare.
The tie-up would help reduce food waste, which was a key component in its Fish for Life programme, Smith said, and also helped support the UN's Zero Hunger Sustainability Development Goal – a major part of Young's broader sustainability targets.
"We are looking forward to continuing our work with the team over the next year and finding new innovative ways to support their great work on a national scale."