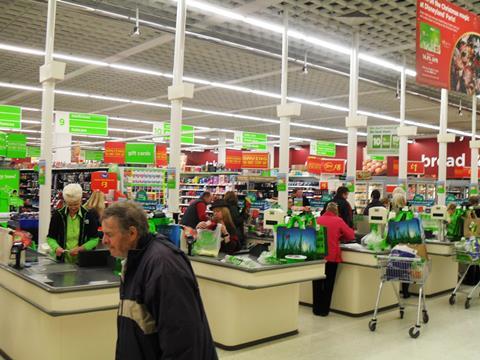 Asda is putting its Price Guarantee scheme under review in an effort to simplify its pricing as sales continue to suffer.
At the third-quarter update this week CEO Andy Clarke confirmed a decision on the scheme would come early next year. The Price Guarantee, launched by former boss Andy Bond in 2010, promised customers money back if their shop of comparable groceries at Tesco, Sainsbury's and Morrisons is not at least 10% cheaper. It spawned a number of imitators, neutralising its impact, said Clarke.
"Everybody is pressing on price but some are using gimmicks with at-the-till mechanics. We are clear investment should be in pure price on the shelf. What you see is what you pay; this is the clearest message to customers."
The traditional supermarkets are struggling to develop a successful strategy to compete against Aldi and Lidl, which, according to the latest Kantar Worldpanel data, hold a combined market share in the UK of 10%.
In the meantime APG is the only price matching scheme not to be revised. Since October last year Sainsbury's has been limited to branded goods at Asda. Last month, Tesco restricted its new cashback scheme to brands. And Morrisons scrapped the price-matching element of the Match & More scheme altogether.

The review of APG comes as Asda attempts to turn around its fortunes after a dismal 2015 in which it has become the worst performing grocer in the sector. The latest like-for-likes show sales slumping -4.5% in the 13 weeks to 30 September - only marginally better than the -4.7% "nadir" in Q2 - the worst performance in Asda's history.

"There's no doubt this represents another challenging quarter," Clarke said. "Sales volumes remain under pressure from price deflation and the intensely competitive background remains throughout the food sector."

Asda would now spend more than the £1bn it had earmarked for price cuts after investing more than half the total in the first two years of its five-year plan, Clarke added. Other initiatives in Project Renewal include a 10% SKU reduction target to "remove duplication but not choice". And Asda is also spending £600m on a refreshment of 95 of its large stores.

It is also putting the brakes on its plans for expansion into non-core areas such as click & collect and petrol stations and has pulled back from participating in Black Friday this year, with Clarke predicting others would follow his lead next year.