People die on Black Friday. It doesn't happen very often. But it happened to Jdimytai Damour, a 34-year-old Walmart employee who was crushed to death by rabid shoppers on Black Friday in 2008.

A queue had been steadily forming outside the Long Island Walmart store where Damour worked since 5.30pm the previous day. Over the next 11 hours, the queue degenerated into an unruly 2,000-strong mob.

Shortly before 5am, with the planned opening time just seconds away, the store manager began the traditional countdown. When he hit zero the crowd surged forward, burst the automatic doors from their frame, and swarmed in.

Damour, a 450lb, 6ft 5in giant, called in from his part-time position in the stockroom to help keep the crowd under control, was struck by one of the flying doors and went down under it. The crowd poured over him.

His colleagues fought against the tide to drag him out of the melee. When they did his eyes had rolled back and his tongue was lolling out. Attempts to revive him failed. He was pronounced dead in hospital at 6.03am.
Shoplifting uplifts
Gwent 102%
Surrey 78%
City of London 75%
North Wales 41%
Northamptonshire 33%
Wiltshire 32%
North Yorkshire 29%
Gloucestershire 28%
South Wales 25%
Durham 19%
"He was bum-rushed by 200 people," 43-year-old colleague Jimmy Overby told the New York Daily News. "They took the doors off the hinges. He was trampled and killed in front of me. They took me down, too. I didn't know if I was going to live through it. I literally had to fight people off my back."

Then there was Walter Vance in 2011. He suffered a heart attack in Target on Black Friday but was ignored by his fellow bargain hunters and died in the aisles.

He wasn't crushed to death like Damour, and he had a pre-existing heart condition. But it's hard to believe had he dropped to the floor on a regular Friday afternoon at least one supermarket shopper wouldn't have whipped out a cellphone and hurriedly dialled 911.

Deaths are rare on Black Friday. But injuries are legion. Shootings, stabbings, pepper sprayings, brawls, broken bones and other crush-related injuries are an established feature of Black Friday in the US.

Now it's in the UK. So what's it doing here? What's so good about it for the industry? What's bad? And does the chaos that greeted the first proper UK Black Friday in 2014, complete with arrests, fights, broken bones, unruly crowds and scared supermarket staff - though thankfully no deaths - mean the ugly scenes so routinely played out in the US are heading here too? Or has the overall unpleasant experience of last year put some UK retailers and customers off the whole idea?
The good
Over in the US, Black Friday is America's busiest shopping day of the year. Last year, US shoppers spent £33bn over the four-day weekend, so it's little wonder Black Friday has arrived in the UK. Amazon ushered in the concept online in 2010, and Asda, prompted by parent company Walmart, launched it into UK stores in 2013. In 2014 Tesco joined in, along with a host of other retailers from fellow supermarkets like Sainsbury's to M&S, John Lewis, Apple, Argos, House of Fraser, Gap, Game, Halfords, Boots and more.
In December 2014, IRI credited the event with putting the supermarkets back in the black for the first time in four months
It can act as a "good rehearsal" and give retailers "better confidence" for Christmas, says Dan Murphy, partner at Kurt Salmon. And from a sales perspective at least, Black Friday is a very good thing for British retail.

In 2014, excited UK shoppers splashed out £1.3bn, says retail analyst Conlumino. In December 2014, IRI credited the event with putting the supermarkets back in the black for the first time in four months.

And in 2015 it stands every chance of being bigger, with awareness and intention to buy proving strong. Savvy Insight polled more than 1,000 shoppers aged 18 to 74 in October and found 94% knew about Black Friday and 41% planned to buy stuff this year, with electrical devices proving most popular. And in 2015, Conlumino predicts overall sales will rise to £1.6bn.
The bad
However, those big numbers also deliver big challenges to retail operations that can put a retailer's "reputation and sense of responsibility on the line" says Danielle Pinnington, MD at shopper research agency Shoppercentric. "Black Friday is a great PR exercise and footfall driver, but it can also be seen as promoting greed and over-spending without bothering to handle the logistics and security. And when websites and the supply chain can't cope it's incredibly frustrating for shoppers and completely obliterates any goodwill."

So while the occasion presents a "great chance to delight" it also offers up a "massive opportunity to disappoint," adds Mark Denton, head of retail propositions at BT Expedite. "Taking part in the craze will only be successful if you are fully prepared, otherwise you'll just earn a black mark. It's a huge amount of pressure and customer expectation on a single day. For those in store, the staff demand, the throughput and, as seen last year, the security, become major concerns".

Even if throwing another seasonal sale occasion into the mix is good for shifting volume, it's not necessarily so good for margins, says Gideon Lask, CEO of online specialists Buyapowa, which counts Tesco among its clients.
"Overall it damaged Christmas gift spending and took sales away from full-priced sales over the Christmas period"

"Occasional sales used to be healthy as they shifted old stock, generated cashflow, freed up storage space and attracted customers," he says. "But Black Friday, Cyber Monday, January sales and the like have merged into never-ending sales putting constant pressure on retail margins. This means suppliers need to cut costs and even jobs to meet the retailers' demands, which is not great news for UK plc."

Its proximity to Christmas also damages margins at the most valuable time, claims software company Eagle Eye Solutions founder Steve Rothwell. "Overall it damaged Christmas gift spending and took sales away from full-priced sales over the Christmas period," he says.

It's the "big issue" about Black Friday, says veteran retail analyst Nick Bubb. "How much the discounting pulls forward business that retailers would otherwise have got at full-ish price before Christmas, and how far it reduces consumers' willingness to pay full price in December."

Although he adds "no-one should underestimate the profitability of planned discounting, where retailers can work with suppliers to place big forward orders in order to secure a good price because of the scale of volume of production. That can still offer a good promotional deal and make a retailer a reasonable gross margin."

What Black Friday definitely delivered last year was the "lowest-ever growth in December online trade, which rose just 5%" says Nigel Arthur, MD for EMEA at mobile shopping experts Urban Airship. "I'm not saying retail shouldn't embrace Black Friday - you cannot avoid the fact many retailers can make up to 20%-40% of their seasonal revenue during the one-day frenzy. But retailers should rein it in and control the period."

From a supply chain perspective they are trying, says Wincanton retail MD Liam McElroy. He says the data gleaned from Black Friday's major debut in 2014 has allowed Wincanton to "plan more effectively" for 2015. That means although the supply chain element is "still on a learning curve, we are moving along it quickly. Black Friday is here now, it's part of our culture, but in the future years the growth won't be so rapid. And if retailers get it right then it will be great for profitability, too. So you have to adapt."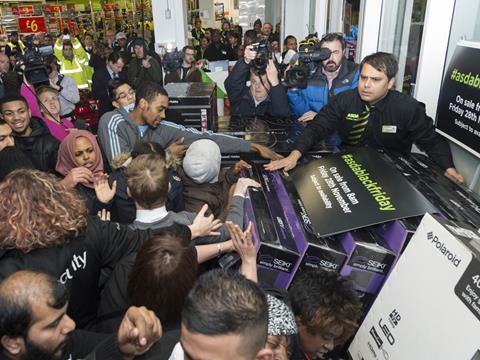 The ugly
The most visible challenge for retailers, and where it gets really ugly, is the chaos on the shop floor. Great Britain might lag behind the Wild West when it comes to levels of Black Friday craziness, but on 28 November 2014 police were called to supermarkets in England, Wales and Scotland as hyped-up shoppers lost the plot.
Officers attended seven Tesco stores in Manchester alone, making three arrests after shoppers started fighting and threatened staff. One woman broke her wrist. Another was injured when a TV fell on her head. No big deal compared with historical scenes in the US perhaps, but not what you'd expect from a trip to the supermarket in the UK. So why is it happening?
"As social animals we copy the behaviour of others, so it's easy to see how usually rational people can descend into pack mentality"
"Natural competitiveness and human survival instinct are prevalent in people's actions to outdo other hunters," says Darren Jackson, retail solutions director at APS Group, which dreams up experiential marketing campaigns for clients including The Co-op Group.
"Think back to the caveman mentality of hunting food before your neighbours get to it. This is why images of people, pushing, kicking and biting others in order to get the last widescreen TV before anyone else have become so synonymous with this time of year. And as social animals we copy the behaviour of others, so it's easy to see how usually rational people can descend into pack mentality."
Just like they did in the Tesco Extra in Middleton, where 200 riled-up shoppers point blank refused to leave a store despite all the special sale items having sold out. And Bicester Village, the shopping outlet park, was forced to shut after the surrounding roads were gridlocked.
To add to the surreal scenes, police officers elected to use Twitter to call for calm and warn shoppers that: "Even on #BlackFriday shoving people to the floor so you can get £20 off a Coffee Maker is still an assault."
One supermarket shopper told the BBC people were "biting each other, pinching, punching, kicking… it was just absolutely horrendous, it was so, so bad."
Another Tesco shopper said "the lady on the till I was at was in tears, terrified of it all, but she was under orders to close her till to go and help crowd control".
If accurately described, these are clearly not situations checkout staff are traditionally trained for. Or indeed anyone who works for a supermarket. And the police aren't keen on pitching in to help out, either.
Sir Peter Fahy, chief constable of Greater Manchester Police, also expressed his disappointment via Twitter. The next morning he released a scornful statement damning the lack of responsibility displayed by Tesco.
"The events of last night were totally predictable and I am disappointed stores did not have sufficient security staff on duty," he said. "We had to deal with crushing, disorder and disputes between customers. We just ask these stores to work with us to reduce the demands on policing and reduce the risks of disorder and crime."
"The lady on the till I was at was in tears, terrified of it all, but she was under orders to close her till to go and help crowd control"
So what do the supermarkets have planned to ensure they don't waste police time this year?
Tesco bore the brunt of the disorder, and the negative publicity, after the problems in 2014. A Tesco spokeswoman says last year was "incredibly popular" and it has plenty of "exciting deals" planned for Black Friday in 250 Extra stores (it's also trialling Black Friday deals at its c-store offshoot, One Stop).
But it's taking more precautions. On the day, all store managers will be on duty, as will all store directors and retail directors. Tesco will also close each store between 10pm and 12pm the night before to give them time to prepare for the onslaught. Each store has also been individually assessed to determine the level of support it needs, including additional security guards, barriers and queueing systems. In-store stock levels and improved online capacity will also be in place. In short, it appears to have learned its lessons from 2014.
As for Asda, whether it's due to a deterioration in trade, or the conclusion that the UK may be a little too genteel for the rigours of Black Friday, USA-style, it has reportedly decided to scale back its activity this year. So what exactly does it have planned?
"Too soon to say until at least next week," is the official line from an Asda spokesman at the time of going to press. But according to a leading UK grocery retail senior executive, Asda has decided to "scale things back and go in a different direction".
That direction is most likely online, with Asda taking a prudent decision to shift the unpredictable pressures from the front line to online, where hot bargains can be snapped up on smartphones, the chaos takes place backstage, and shoppers can click and collect at relative leisure.
And it's unlikely it will abandon in-store theatre altogether, just reduce the amount of offers available and spread them out over the four-day weekend to ease pressure on stores and customers alike. It's the way forward for Black Friday - in the UK at least - say many.
"Negative images of last year's crush" will drive shoppers online, says Jackson. And PCA Predict, which polled 10,000 retail clients including Tesco, says online sales over Black Friday to Cyber Monday will double in comparison to 2014 (when they topped £800m).

So is Black Friday as we know it, with all the hype, excitement, soaring sales and shop floor fights and crushes all over? Or is it here for good?

"In the market it probably is," considers the senior retail executive.

But, he adds, "at what level is debatable".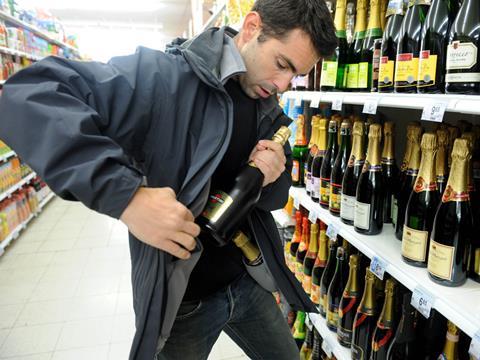 Is a Black Friday shoplifting spree on the way?
Every good shoplifter knows how vital the art of distraction is to carry out the perfect crime.
So hundreds of Black Friday shoppers running riot in supermarket aisles presents the perfect opportunity for anyone looking to pocket some ill-gotten gains. And it's possibly why last November saw a sharp rise in shoplifting up and down the UK, according to official police statistics published by the Home Office. Security specialists Checkpoint Systems analysed the figures and say that some areas of the country saw shoplifting across retailers increase by more than a fifth when compared against the previous November.
In London alone, the Metropolitan Police dealt with 3,530 incidents of shoplifting, almost 400 more than the previous year (and 3,174 reports of public order offences - an increase of 920 on the year before).
When it comes to incidents specifically reported to police "on or near a supermarket", Gwent, in South East Wales, saw a staggering 102% increase in shoplifting in November 2014, the highest of all counties in the UK. Gwent was followed by Surrey, on 78%, and the City of London on 75%.
"Worryingly, the reality is that the increases are likely to be much higher, as not all incidents would have been identified or reported by stores," says Russell Holland, global accounts director at Checkpoint Systems.
"It's clear that some retailers were not only underprepared for huge increases in footfall, but that they had also perhaps underestimated how many opportunistic shoplifters would grace stores up and down the country."
This year, he says supermarkets "need to get the balance right, because hiring dozens of security guards to protect aisles can turn some people off entering the store. Equally, locking all merchandise away in cabinets is proven to reduce sales, as consumers can't interact with the products. So retailers need to identify which items are most susceptible to theft and apply innovative security solutions to them, while ensuring that staff understand how to use existing loss prevention systems, such as electronic article surveillance tags and keepers."