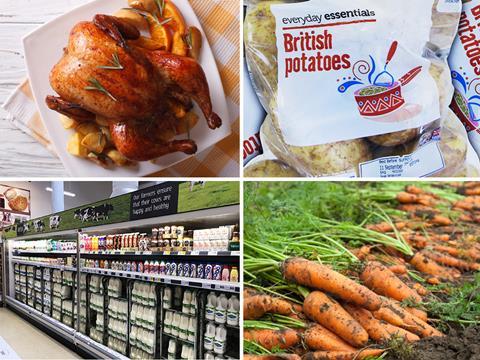 Shoppers can expect to fork out a whole lot more for food and drink this winter, including Christmas turkey, as the effects of the heatwave pushes up prices.

A festive bird could be up to 5% more expensive in supermarkets, warned British Turkey Federation chairman Paul Kelly, as growers were forced to pass on some of the 20% year-on-year increases in feed costs caused by the heatwave.

"We've seen a slight dip in production with breeders concerned about hatchability but the main issue for us is feed," he said. "Producers are being squeezed at both ends and they just can't absorb the added costs."
However, retailers would have been insulated to an extent from soaring wholesale prices, which are already up by about 10% compared with last year, suggested Kelly, as many will have locked down prices in the spring, before the dramatic surge in feed prices

Chicken suppliers were experiencing similar challenges, said Avara Foods CEO Andy Dawkins, who warned it was "inevitable our costs will go up" as producers competed for diminishing supplies of feed. "It's a conversation we have to have with our customers," he added.

Already tight forage stocks after last winter had been hit by the need to supplement poor grass growth through the drought, said John Allen of agricultural consultancy Kite, which was pushing up feed prices.
Current feed wheat prices hit £174.40/tonne last week [AHDB], an increase of £32.30, or 22.7% on the same week in 2017. Futures markets predict prices could soar even higher with buyers entering into contracts to pay up to £194.25/tonne for delivery in November.

Price increases on key dairy commodities, including milk, were also "inevitable", said Allen, who noted all the main dairy processors had increased their farmgate prices in recent weeks to near the 30p per litre mark, citing the difficult conditions for grass growth. "The lack of forage is a real challenge for dairy farmers, it's pushing up the cost of production, and as sure as night follows day, retail prices will follow the cost of production in the end," he said.
Retail prices could also be set to rise in fresh produce, with the average wholesale price of UK carrots up 51.1% and onions up 34.5% due to "poor growing conditions", according to Mintec.
Meanwhile, potato supplies could be down significantly following the poor season, according to AHDB strategy director for potatoes Rob Clayton. Planting areas were already down by at least 3% compared to last year due to difficulty drilling during the wet spring, representing about 180,000 tonnes fewer potatoes. However, actual yields could be even poorer due to the effects of the heatwave, he warned. "We finished the bumper stocks of last season's potatoes over the past few weeks and we're already seeing price rises as this year's crop just isn't as strong," he said.
The UK is more than 95% self-sufficient in fresh potatoes and around 50% self-sufficient in processed potatoes, but faced with uncertainty over the quality of the British crop, retail buyers may be forced to look further afield for supply as European countries faced similar growing challenges, he said.