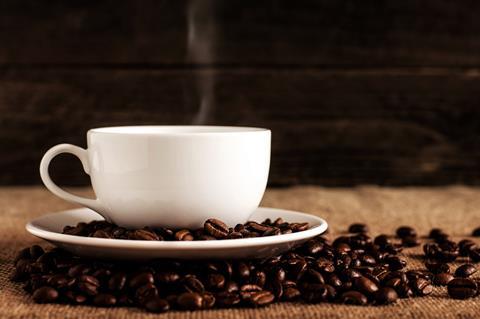 Shoppers are saving on supermarket coffee following another dive in commodity prices.

Global coffee prices fell in February for the second month running, according to the International Coffee Organization. Averaging at $1.02 (80p) per lb, coffee on the global market cost 4.6% less than in January.

At the same time, the average shelf price of coffee across instant, ground and pods has fallen 2% year on year following a slew of promotions across Asda, Morrisons, Sainsbury's, Tesco and Waitrose.

Asda has seen the greatest average price reduction of 4%. This is largely down to its current raft of deals, which include several own label lines. Its 227g French Blend Roast & Ground Coffee is on offer at £1.24, from £1.34 a year ago, while its 100g Gold Roast Decaffeinated Instant Coffee is down from £1.59 to £1.40.

In brands, Asda has temporarily dropped the shelf prices of 16-packs of Costa Coffee Mocha Italia Signature Blend Americano pods (from £4 to £3.50) and Tassimo Kenco Americano Grande pods (from £3.99 to £3).

Across the supermarkets, Tassimo, maker of the UK's biggest-selling ground coffee, has seen a 5% decrease in average shelf price year on year, from £5.05 to £4.80, mainly due to deals in Asda on pods.

Meanwhile, Tassimo's Jacobs Douwe Egberts sister brands L'Or and Kenco are also down in the five mults - by 4% and 1% respectively. Both are being extensively promoted.

A 100g pack of L'Or Intense instant coffee, for instance, is currently on offer at £2.50 in Sainsbury's, from £4 a year ago. The same SKU in Tesco is on a £2.49 deal from £4.99.

For Kenco, its 150g Decaff Eco Refill is £3 in Waitrose and Asda - from £4.45 and £4.75 a year ago respectively.

"Retail prices are at the sole discretion of the retailer and are also subject to each retailer's own promotional strategies," says a JDE spokeswoman. "While we do not comment on specifics of our pricing, we remain committed to offering value for money."

Elsewhere in the mults' coffee segments, Taylors of Harrogate's average shelf prices are down 2%, Nescafé's has dipped 1%, and Lavazza has seen no change over the past 52 weeks. Lavazza sister brand Carte Noire is down 8% - albeit across just four SKUs.

It comes as Nestlé's Nespresso brand faces accusations, alongside Starbucks, of sourcing coffee from farms that use child labour. An investigation by Channel 4's Dispatches uncovered farms in Guatemala that supplied the businesses with coffee picked by children as young as 10.

Both businesses have launched investigations into the claims, while Nespresso ambassador George Clooney said he was "surprised and saddened".