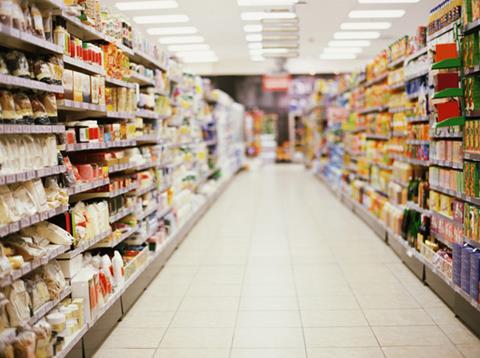 Overall growth in the UK grocery market fell to its lowest level in 11 years, new figures have revealed.
Market growth stood at 1.9% for the 12 weeks to 27 April, Kantar Worldpanel said today – beaten only by the previous 12-week period, which was hampered by the late falling of Easter.
The 12-week spell continued to be a story of extremes, with the discounters Aldi and Lidl and upmarket retailer Waitrose all performing well.
Aldi chalked up record sales growth of 36.1% to seize a share of 4.7%, while Lidl's sales grew 20.9%, to gain a share of 3.5%. Meanwhile, Waitrose's sales grew 6.3% to grab a record share of 5.1%.
Of the big four supermarkets, Morrisons saw sales fall 3.6%, reducing its share to 11%. Tesco's sales slipped by 2.4%, bringing its share down to 28.7%, while Sainsbury's recorded 0.3% sales growth to take a 16.6% share.
Asda's sales grew 2% to maintain its 17.3% share, the same as last year.
Elsewhere, The Co-op's sales growth was largely flat at 0.1%, holding its share steady at 6.1%.
A shift away from "here today, gone tomorrow promotions" towards "everyday low prices" as supermarkets cut prices was to blame for suppressing growth, according to Kantar Worldpanel's director Edward Garner: "Lower prices across the board is great for shoppers, but has driven down market growth to its lowest level in 11 years."
Garner pointed to price campaigns such as Tesco's 'down and staying down' and Asda's 'Price Lock', as well as Morrisons' 'I'm Cheaper' campaign and The Co-op's 'Fair & Square' pricing – which launched after the 12-week period closed – as examples of retailers' efforts to lower prices.
"There are clear signs that the major supermarkets are reviewing their strategies in the face of increasing competition," he said.
"The proportion of sales on promotion currently stands at 45% among the big four. By contrast, the figure at Aldi is just 3%," Garner added.