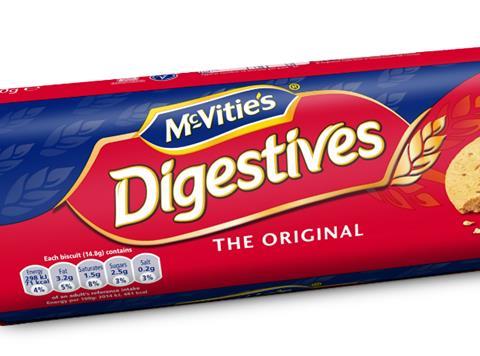 Pladis is to shrink some pack sizes across its portfolio in the face of rising costs, the McVitie's and Jacobs owner announced today (19 January).
The Turkish supplier said it would "make selective changes to a small proportion of its packs" over the coming months. The move would see "the introduction of new larger-value packs and a reduction in some pack sizes".
The first of the changes will appear on shelves towards the end of January, when original McVitie's Digestives will move from 500g to 400g, a 20% reduction, in what was the first change to the SKU "for many years" according to Pladis. The rsp would be cut by 8%, from £1.25 to £1.15, in the latest instance of shrinkflation by a leading fmcg brand.
The move was the result of "rising cost of ingredients and changes in the exchange rates" said Pladis managing director for UK & Ireland Nick Bunker. "We work hard to drive efficiencies throughout our business to absorb cost increases, but occasionally, like many other businesses in these challenging times, we do need to make some adjustments."
In an effort to maintain "the affordability of our iconic brands", Pladis had "taken the decision to review the pack and promotion strategy across a small proportion of our portfolio" Bunker added.
"We're announcing this now because we want to be completely open and transparent with our customers and consumers."
In September, Pladis cut the number of McVitie's Jaffa Cakes per pack, with a 12-pack shrinking to 10. The rsp dropped from £1.15 to 99p but the snack became 3% more expensive per biscuit. The Jaffa Cakes twin-pack was cut from 24 to 20, while its price fell to £1.89 from £2.19.