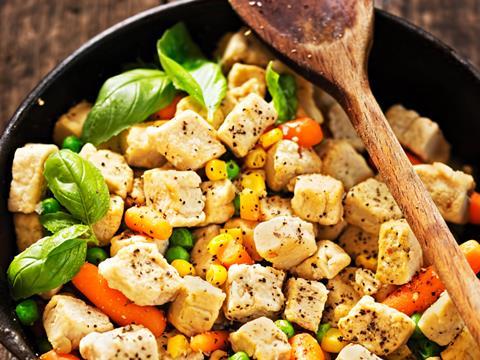 Supermarkets have marked the end of Veganuary by hiking prices on popular meat alternatives, latest data suggests.

Prices for vegetarian foods have been rising since the end of January and are now up 2% year on year across 233 chilled and frozen SKUs in the mults - to their highest level in three years [Brand View 52 w/e 14 February 2017].

Vegetarian sausages (up 10%), tofu (5%) and bean burgers (3%) are among the plant-based products shoppers are paying more for in the mults than a year ago.

Some of the price hikes have been on bestselling brands such as Cauldron, which is 8% more expensive on average than last year. A 200g pack of Cauldron Falafels is up 11.6% to £1.64, while Cauldron Marinated Tofu (160g) is up 5.6% to £2.39.

Prices are also up on popular products from stablemate Quorn - such as Quorn Peppered Steaks, up 7.9% to £2.74, and Quorn Mince 300g, up 11.6% to £1.87, while Linda McCartney's frozen range is up 3% on average. A pack of Linda McCartney's vegetarian sausages (300g) is up a whopping 13.4% to £1.99.

Shoppers are also paying more for own-label meat alternatives, the data suggests. Tesco has added 25p to its own label meat free bacon style rashers, now £1.75, while Morrisons' own label premium feta, lemon and asparagus croquette (260g) is up 4.7% to £1.57.

Commenting on the price increases, a Quorn Foods spokeswoman said "all pricing is at retailers' sole discretion".

It comes as the company this month reported global sales had rocketed by 16% to £205m in 2017 - putting it on track to become a billion-dollar business by 2027. Sales of Quorn were up 15.1%, while Cauldron was up 30.4% to account for 8.5% of the group total sales.

"The company's billion-dollar ambition is grounded in the fact that many consumers are now choosing to eat less meat for a combination of reasons," it said.

"Whilst health is the leading factor, demand is accelerating due to an increased awareness of the environmental impact of meat production. This is leading to a reduction in meat consumption, and in many cases, to a complete shift to vegan diets, underlined by the growing popularity of Veganuary."

Over 150,000 people took part in Veganuary 2018, which is almost double the 70,000 people that registered to go vegan for a month in 2017.

The major mults made a big push on plant-based last month. Having hired US chef Derek Sarno as its "chef director of plant-based innovation", Tesco launched a 20-strong Wicked Kitchen lineup of vegan ready meals, pizzas and food-to-go offerings, while Sainsbury's launched seven "next-gen" own-label SKUs including Shroomdogs, Mushroom Mince and Indian-inspired Cauli burgers. Aldi and Ocado also rolled out new meat alternative products in January.