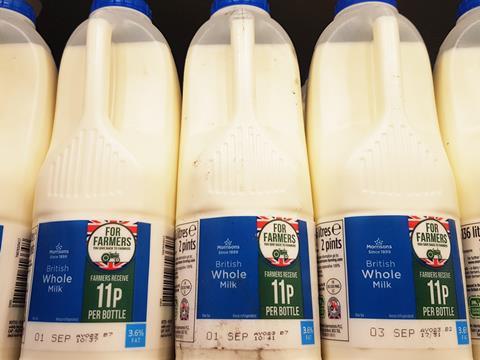 Morrisons has hiked prices on some own label milk SKUs by as much as 7.5% in the wake of a surge in farmgate prices earlier this year.
The supermarket's average price for fresh milk is up 3% after it increased the price of a standard four-pinter by 5p to £1.15 (up 4.5%) at the end of last week, while hiking the price of two pints by 6p to 86p, (up 7.5%) [BrandView.com].
It has also increased the price of its Milk for Farmers range, with four pints up 5p to £1.38 (a 3.8% rise) and two pints up 6p to 97p (up 6.5%).
However, it has yet to increase the 10p per litre premium it pays farmers from the range.
It follows an increase in farmgate prices prices in recent months and comes amid concerns during the summer that difficult conditions for dairy farmers caused by extreme weather would tighten supplies and "inevitably" lead to an increase in retail prices.
"The lack of forage is a real challenge for dairy farmers," said John Allen of Kite Consulting in August. "It's pushing up the cost of production, and as sure as night follows day, retail prices will follow the cost of production in the end."
Milk from non-supermarket aligned suppliers was 4.2% more expensive in August than the same time last year at an average of 29.84p per litre [Defra/AHDB Dairy]. Apart from a price spike last autumn, this was the highest price to be recorded since the height of the dairy crisis in mid-2016.
Meanwhile, the average price for liquid milk paid to producers by buyers was up 19.3% in September compared with the same period last year [ONS].
Morrisons declined to comment on the reasoning behind its price increases, while none of its competitors have followed suit to date.
It comes as Morrisons last week extended it's The Best premium own label range with the launch of its first Jersey milk product.
The one litre unhomogenised milk is supplied by Graham's the Family Dairy (rsp: £1.15), and filled a gap in the range for a milk product, said a Morrisons spokesman.
"Customers are seeing the benefits of full fat milk and milk produced in Jersey is considered to be the best," he added.