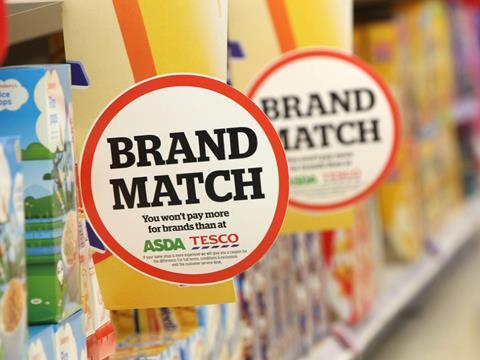 Sainsbury's is calling time on its Brand Match price-matching scheme to focus on lower everyday prices instead.
The supermarket will end its scheme, which compares prices of branded goods with Asda and offers the difference back if they are more expensive, on 26 April.
Savings from the scheme would be reinvested in lowering the price of "popular key products" such as chicken, bread and fresh produce, Sainsbury's said.
The retailer stressed that "the majority" of qualifying shops under Brand Match were the same price or cheaper than Asda. It insisted only a fifth of baskets qualify for the scheme, which stipulates shoppers must buy a minimum of 10 products including at least one comparable branded item.
Sainsbury's marketing director Sarah Warby said the changes "fit in with the way people shop now". "Our customers are shopping more frequently across multiple channels and they want to be able to buy the products they love, in the quantities they need, safe in the knowledge that they are getting great value for money," she explained.
Customer research showed lower regular prices were more important to them than Brand Match, Sainsbury's added.
The move comes as part of a revamp of Sainsbury's pricing strategy to focus on consistently lower prices rather than promotions. In February, the supermarket announced it would phase out all multibuy offers by the summer.
The retailer is currently the only one of the big four supermarkets in growth. According to the latest figures from Kantar Worldpanel released this week, Sainsbury's sales were up 1.2% for the 12 weeks to 27 March.