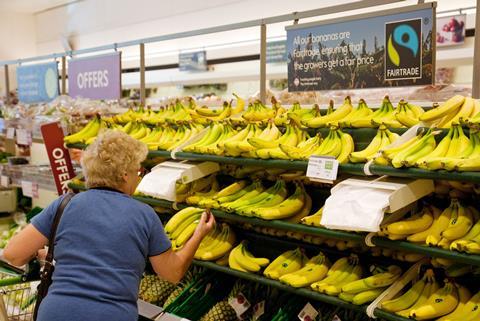 Shoppers are paying more for supermarket bananas following a series of price rises across the mults over the past two-and-a-half months.

Average banana prices have increased 3% since the end of May, latest data suggests [Edge by Ascential 29 May to 17 July].

Of the 43 different own label banana SKUs on sale across the big four, Waitrose, Ocado, Iceland, Aldi, Lidl and Amazon Fresh, some 33% (or 14 lines) have experienced price rises since the end of May.

Just two of those 14 SKUs were loose, with the remainder of the price rises on bagged or multiple bunches of the fruit.

Tesco has increased prices on the most lines, the data suggests. It added 10p to its five-packs of Keep Me and Ready to Eat bananas last week, now £1 each, as well as adding 6p to bags of six organic Fairtrade bananas and six organic small bananas, up from £1.39 to £1.45 each.

Asda hiked the price of its Growers Selection Ready to Eat bananas on 19 June by 10p to £1. The retailer has also increased its price for loose bananas twice since the start of June, with the price per kg up from 76p to 78p on 5 June, and rising again to 84p this week.

Morrisons has increased the price of its five-pack Ready to Eat bananas twice since 19 June, first from 90p to 94p, and again to £1 on 3 July.

Meanwhile, Lidl increased the price of its five-pack organic bananas from 99p to £1.08 on 29 May, and again to £1.13 on 12 June. The discounter also increased the price of its loose bananas from 76p per kg to 78p on the same date.

Elsewhere, Ocado, Iceland and Aldi have all increased the price of one banana SKU each during the two-and-a-half month period.

Amazon Fresh increased the cost of its Ripen at Home five-pack from 90p to £1 on 10 July, and raised the price of its six-pack Fairtrade bananas twice in the past four weeks - first from £1.08 to £1.39 on 26 June, and to £1.45 on 10 July.

The widespread price rises on bananas across the UK's main supermarkets are not thought to be the result of any commodity price volatility, suggests Mintec market analyst Rutika Ghodekar.

Supplies have been plentiful in Latin America, from where the UK sources the majority of its bananas, she adds, while year-on-year wholesale prices were down 1.2% last week at £781/tonne.

"There is no reason for banana prices to rise now," she says. "The market is well supplied and exports to the EU from Latin America increased by approximately 20% during the first half of 2019."

Instead, supermarkets are most likely gradually increasing prices on bagged SKUs to try and make up for low or zero margins on loose bananas, which are an important loss leader, says Alistair Smith, international co-ordinator for NGO Banana Link.