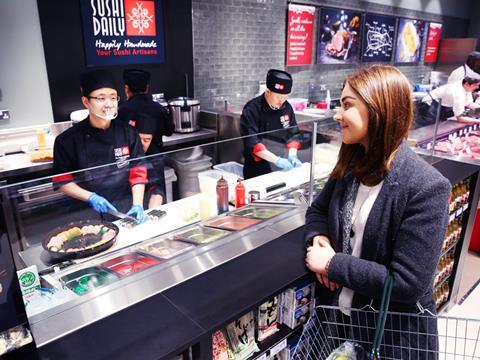 Brits have splurged an extra £16m on supermarket sushi, pushing sales through the £100m mark for the first time.

Value sales of chilled pre-packed sushi surged by 17.8% to £104m this year, making it the fastest growing main meal in food-to-go.

Sushi was benefiting from growing demand for healthy lunchtime options, with more Brits tempted to try it now it was included in supermarket meal deals, said Martin Wood, head of strategic insight at IRI.

"Sushi is no higher in salt than most salads or sandwiches and the calorie count tends to be lower. And there are lots of veggie variants and it has more of a premium feel than a veggie salad. It's also high in protein."

There has been a concerted effort by the mults to tap the burgeoning sushi market in recent years, with Asda extending its range in 2014, Tesco axing 30% of its sandwiches to make way for sushi lines in 2015, and Waitrose, Morrisons, Sainsbury's and M&S all opening fresh sushi counters in stores.

Meanwhile, Waitrose plans to have Sushi Daily concessions in 75 stores by the end of January 2018.