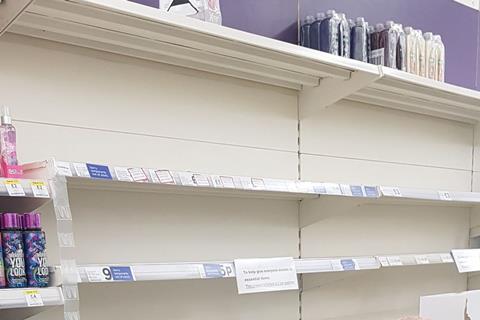 Supermarkets are drastically reducing the number of promotions running in stores and online to manage a huge spike in demand prompted by coronavirus.

Ocado has written to several suppliers to say it is removing all promotions set for April.

"This is not to do with your supply, but more around us managing the throughput of the significantly increased demand we are currently experiencing," Ocado said in an email to suppliers, seen by The Grocer.

The company has already stripped thousands of promotions from its site. During a seven-day period ending 10 March 2020, more than 4,000 fewer promotions ran than during the previous seven-day period, Assosia data shows.

The most significant drop in promotions - with 3,204 fewer week on week - was in the food cupboard category, which contains several panic-bought products including pasta, rice and canned goods. The health & beauty, frozen food and baby categories also saw big drops.


Tesco told suppliers on Thursday it was removing all multibuys and looking to "remove all current shelf promotions that are live in store" as a "necessary measure" to protect its service.

This comes after a cull of 2,000 promotions at Tesco, Assosia data shows. Promotion count falls can also be observed at Waitrose and Asda.

Ocado Retail CEO Mel Smith told suppliers last week the retailer would make changes in its promotional activity to "better regulate demand/bulk ordering". Smith said Ocado would ensure "the spirit and intent" of its media and promotional commitments would be kept over time.

On Thursday, Ocado reported a "several hundred percentage increase in web traffic", which last week forced it to suspend its mobile app and cease onboarding new customers.

"We've had hours in the week where we have had 100 times the normal level of transaction on the website. We're seeing demand in transaction in less than one day that is greater than a normal week," Ocado CFO Duncan Tatton-Brown said.

The company will continue to monitor trends in demand and will be "adjusting our marketing approach, where necessary, to address these shifts in behaviours", he added. As well as more orders, Ocado has seen basket size increase, with a greater mix of ambient goods.

"How promotional strategies can help reduce bulk buying and slow down the high levels of out-of-stocks in key categories will show over time, but will also be dependent on the supply chain," says Assosia director Kay Staniland.

"If the current panic-buying of toilet rolls, hand gel and staples like spaghetti and tinned goods continues and spreads into other areas, retailers and suppliers are going to need to continue to react fast, and one potential avenue they have is to remove promotional offers."