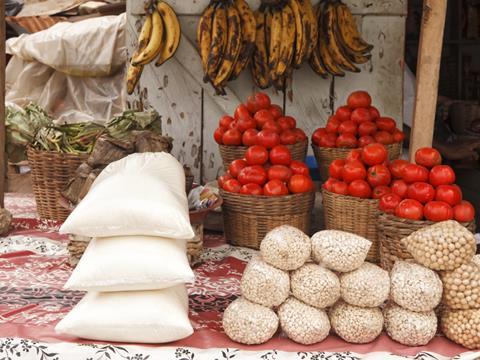 Recently, quite a lot of my attention has been focused on the integrity of the food consumed by over 1.2 billion people - and one group of nearly 900 million of them in particular. Where is this? Africa, and particularly sub-Saharan Africa.
My interest started with a number of research projects that looked at the levels of contaminated cereals consumed in Somalia and Nigeria. In terms of Somalia, we looked at a range of foods available in the markets of the capital Mogadishu. The results that we produced were quite shocking, even for a country that has been plagued with civil war for several decades. We calculated the risk of developing primary liver cancer just from the consumption of maize was 10 times higher in Somalia than in Europe due to the presence of huge levels of mycotoxins.
Meanwhile in Nigeria, we looked at risks arising from foods consumed by infants and young children. Again our results were very disturbing due to the presence of high levels of a range of mycotoxins. These exceeded the European safe levels by many fold. Stunting and poor immune system development causing a much greater susceptibility to disease are among the effects that will be exhibited in these poor children.
Separately, I've started turning my attention to trying to find out the level of food fraud going on across sub-Saharan Africa. Not surprisingly, there are no statistics and the 'evidence' I have collected is through linking with research groups in various African countries and trawling newspaper articles from this continent.
The level of fraud, as far as I can make out, is immense. Toxic rice, formaldehyde-treated fish, fake Coca-Cola with things moving around in it… this seems to be what's on the menu for hundreds of millions of victims of fraud. The Confederation of Tanzania Industries estimates that up to 50% of all the food imported into its country is associated with some sort of fraud.
Often when we think of food issues in Africa, we think about a lack of food. But I believe food contamination and fraud is an equally large problem, though one that seems not to be discussed nearly as much.
In a small way I want to help. That why I've formed an alliance with some very forward-thinking scientists in Ghana to help them develop a Centre for Food Integrity and Quality. If we can get this right in Ghana, perhaps the model can be followed by others.
It's a small step. Only when governments across the world (and within African countries) supported by institutions such as the World Bank and United Nations decide concerted action is needed can we expect to hear more about the scandalous food systems that exist across Africa.
Should any of the readers of this article think this is an area in which they could help, in some way, they know the professor in Belfast to contact.
Professor Chris Elliott is director of the Institute for Global Food Safety at Queen's University, Belfast