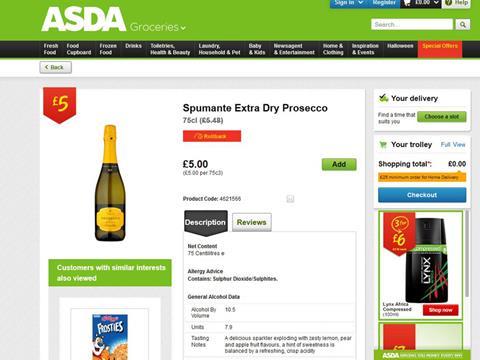 Asda has recalled batches of its Prosecco Spumante Extra Dry wine following complaints about the bottles shattering.
The £5.48 Italian wine, which is exclusive to Asda in the UK, is described in the retailer's tasting notes as "a delicious sparkler exploding with zesty lemon".
Five batches of the 75cl bottles, which has the barcode 05052898002906, are affected: L1402606, L1403271, L1403503, L1403655, L1404044.
"We have had a handful of complaints about our Prosecco Spumante Extra Dry bottles shattering," said a spokesman for the retailer. "We take this incredibly seriously as our customer and colleague safety is paramount to us, which is why we've recalled certain lot numbers of this product as a precaution."
Product recall notices are being placed in stores and issued to consumers, advising them of the recall and what they can do if they have bought the affected product.