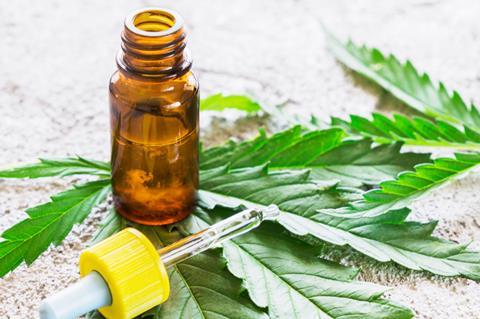 The FSA's novel foods authorisation deadline for CBD products is fast approaching. Food and drink suppliers have until 31 March to apply for authorisation or risk being pulled from retailers' shelves.
The process would ensure cannabidiol products categorised as novel foods met legal standards, including on safety and content, said the FSA when it announced the deadline in February 2020.
But applying for the status can be complex and costly – with charges estimated at as much as £500k per submission. Plus, the process has been further complicated by the pressures of the pandemic.
So, we spoke to Arjun Rajyagor and Ben Hamburger to discuss the matter. They're the founders of Sana Lifestyle, a London distributor of CBD products across health, beauty and dermatology. It also offers a range of services including regulation management – with a mission "to ensure we make it easy for retailers to identify and list legitimate brands that consumers can trust and feel secure using".
Why is CBD such a fast-growing area in grocery?
Consumers are becoming more and more aware of the broader benefits of the hemp plant, specifically regarding sleep, anxiety and muscle recovery.
Across retail in general, more interested and better-informed consumers have driven awareness of CBD, while high consumer demand for natural, plant-based wellness has also emerged in the past two years.
What type of products are in biggest demand?
In the UK, the most popular products are simple tinctures. These contain CBD mixed with a carrier oil and are taken as drops under the tongue.
With so many products already on shelves, is there a big variation in quality?
Ingredients vary widely in quality – and there are many products that simply do not contain what they report to contain.
Why does this quality vary so significantly?
All CBD is extracted from the hemp plant, and every plant is subject to a wide range of growing conditions. This diversity of environments leads to both differences in the CBD extracted and its quality.
What impact does that have on the potential benefits for consumers?
Untested products can massively impact product performance, as can false product claims. We've seen products that claim 100% bioavailability, but this would only be possible with a direct injection into the bloodstream.
What sort of CBD products require novel foods authorisation? Which are exempt – and why?
Novel foods regulation covers any food or food supplement. So, tinctures, gummies and similar are covered, while skincare products are not as they are not ingested.
How complicated is the novel foods application process? And what makes a good submission?
It is incredibly complex. It involves developing a comprehensive dossier for a given ingredient substance (CBD, in this instance) covering in detail all manufacturing processes, the specific profile of the product, the level of any toxins (and variability), and the relative bioavailability and toxicity of each of the different finished product formats. The dossier is then submitted to the regulator for review and assessment.
What are the most common pitfalls?
Not ensuring consistency of CBD levels in the product – which can be challenging given the natural variability of CBD content in the source hemp. This is a key reason why experienced and reputable suppliers are critical to the process, as they can be confident that their protocols are delivering consistent CBD levels across the entire product spectrum.
What are the common misconceptions about the novel foods application process?
That it needs to be undertaken on a brand-by-brand basis, when it should actually be undertaken on the specific ingredient and formulation.
How long does the process typically take?
For the UK market, novel foods validation can be achieved within 10 weeks from the date of original submission.
How can brands make sure making they meet – or even exceed – the legal requirements?
Credible ingredient suppliers are a critical part of the supply chain in this category. Brands should aim to work with reputable ingredient manufacturers with both well-defined processes and the necessary funding and support to produce a dossier that can be submitted for full accreditation.
There's no fee to make a novel foods application to the FSA – so where are costs incurred?
They're incurred to support the development of the ingredient dossier, working with relevant regulatory experts to write the document, and there may be additional costs to run additional studies to collect data to support the dossier itself.
If a supplier wishes to place a new CBD product on the UK market, does it suffice that the supplier has submitted valid novel food application? Or is it necessary to wait for the actual approval of the application?
If it's a new CBD extract that was not on the market prior to the announcement, then it will require full authorisation before it can be sold. If the extract was on sale prior to the FSA announcement but has not yet received validation, the product can be listed today but will be removed on 31 March if validation is not received by then.
What about retailers? Should they just wait until the deadline before stocking brands? And if they have their own products, how can they ensure they meet the deadline?
Most retailers, given the current retail environment, have no intention of changing their brand portfolio prior to the deadline and are actively engaging with existing brands to get updates on their ingredient manufacturers' current progress with their applications.
For private label products, they would have needed to start engagement with their supplier at the beginning of this year – at the latest – to ensure tthey are covered by the application the supplier will be submitting ahead of the novel foods deadline.
What are the potential benefits of the novel foods process for consumers? And whose job is it to communicate those benefits?
The benefits are to effectively certify all ingestible products as 100% safe for human consumption. The communication of those benefits is down to both brands and the wider industry to ensure consumers have an understanding of what a safe product looks like and how it can potentially benefit their own health.
What are the package labelling requirements on all CBD-based foods beyond 31 March?
They won't change, and products will continue to not be allowed to make specific health claims.