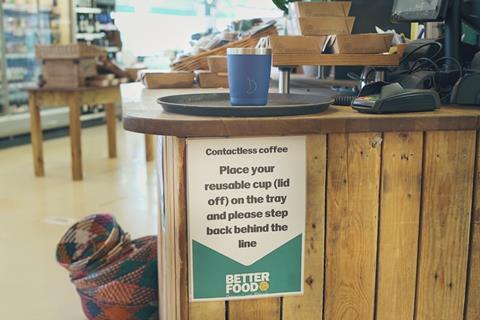 Non-profit City to Sea is trialling a new scheme to demonstrate how retailers can return to using reusable coffee cups in spite of the coronavirus outbeak.
It has launched a campaign, called #ContactlessCoffee, and is working with local retailers to work out the most hygienic way to serve customers with refillable coffee cups, amid fears shoppers' hygiene worries could see a surge in single-use plastics.
It has created new guidance suggesting shoppers place a clean reusable cup with the lid off on a designated tray and step back two metres.
The barista can then prepare the espresso and milk in normal crockery, before pouring into the customers cup without touching it, taking the tray back to the till point and stepping back two metres for the customer to collect the drink.
Café chain Boston Tea Party is currently testing this protocol at its Bristol store, with an eye to rolling it out to its 23 stores nationwide.
City to Sea said it wanted businesses from all over the country to pledge to reintroduce resuables in time for Plastic Free July.
CEO Rebecca Burgess said as Covid-19 hit the UK it became clear there was a surge in single-use plastic, adding "as we come out the other side, we are keen to not only support coffee chains, local independents and restaurants, but also not let the great strides towards reusables slip".
Burgess stressed safety was "rightly the number one priority", however "no one material is guaranteed to stop the virus".
"Washing our hands and sanitizing surfaces are still the best things we can be doing," she added.