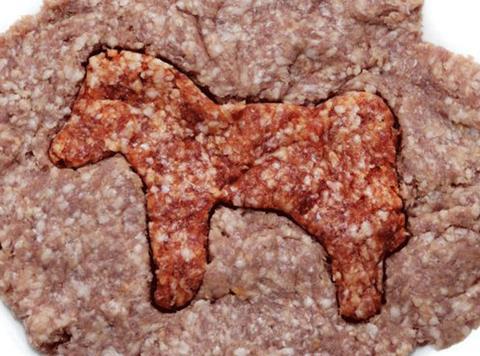 Four men have gone on trial in Paris over their alleged involvement in the 2013's pan-European horsemeat scandal.
Two former executives of French meat processor Spanghero, along with two Dutch meat traders, face a range of serious fraud charges linked to the scandal, which saw horsemeat passed off as beef and sold in ready meals across Europe.
Former Spanghero MD Jacques Poujol and an ex-plant director, Patrice Monguillon, appeared in court in Paris alongside trader Hendricus Windmeijer yesterday. A second Dutch meat trader, Johannes Fasen, was not in court.
The four men are accused of organising the sale of more than 500 tonnes of horsemeat to a subsidiary of French ready meal manufacturer Comigel, which were then sold to 28 different companies in 13 European countries, AFP reported.
Ahead of the trial, a lawyer for Poujol told Reuters his client did not know he was being sold horsemeat. However, this argument was contested by his co-defendant Fasen, an executive at Cyprus-based Draap Trading.
"My client sold the horsemeat to Mr Poujol because he ordered horsemeat," Fasen's lawyer told the news agency. "He sold the horsemeat to Poujol at horsemeat price and Spanghero sold it on as beef at €1.50 a kilo more. So who profits from this crime?"
The Paris case is expected to last until mid-February, with the four men set to face up to 10 years in jail and a fine of €1m (£900,000) if found guilty.
The horsemeat scandal cast a spotlight on food labelling and meat supply chains across Europe, and ultimately led to the publication of the Elliott review in the UK, where author Professor Chris Elliott called for the creation of the FSA's National Food Crime Unit and warned complex food supply chains were at the mercy of criminal gangs and fraudsters.
The Spanghero trial comes a year-and-a-half after London-based meat supplier Andronicos Sideras was found guilty of conspiracy to defraud – and convicted of adding horsemeat into beef destined for the human food chain – as part of a separate investigation linked to the wider horsemeat scandal.
Two other suspects, Ulrik Nielsen and Alex Beech, both from Hull-based Flexi-Foods, had previously pleaded guilty for their part in the case. Nielsen and Sideras were sentenced to prison for a combined total of eight years, while Beech received a suspended sentence.