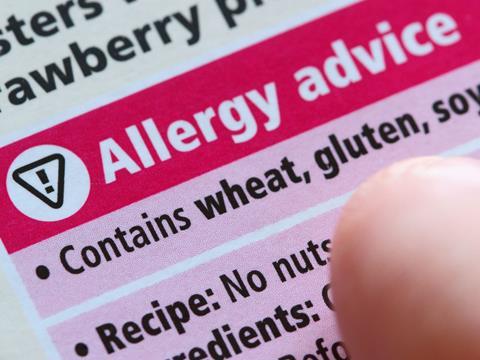 New rules on how food businesses label allergens on packaging could be in the offing after the FSA launched a consultation this week in a bid to protect food-hypersensitive consumers.
The consultation on precautionary allergen (PAL) or 'may contain' labelling will run until 14 March 2022, and will ask for views on how to make on-pack allergen information clearer.
It comes after recent FSA research revealed that food-hypersensitive consumers could be left perplexed by PAL information, which is sometimes voluntarily provided by food companies and refers to the unintentional presence of allergens in food items, in statements such as 'may contain nuts' or 'may contain milk'.
The confusion stemmed from the differing wording often found on pre-packed foods such as chocolate bars, biscuits and other products sold in supermarkets, making it unclear precisely what the risk was, the regulator said.
FSA research also discovered that while the majority of food businesses used the labels to try to protect consumers, some were confused about when and how to use them.
In its PAL guidance, the FSA warned that this labelling should only be used when – following a thorough risk assessment – a genuine risk of allergen cross-contact within the supply chain was identified that cannot be removed through careful risk management actions.
Excessive use of such labelling could unnecessarily limit consumer choice, and devalue the warning for consumers with a food allergy or intolerance – which could lead to risk-taking behaviours, it cautioned.
"Consumers have told us that inconsistency in how precautionary allergen labelling and information is given can cause a lack of trust in the labels and stop them being able to enjoy certain foods," said FSA director of policy Rebecca Sudworth.
"We know that precautionary allergen information is difficult for businesses and local authorities responsible for enforcing the law, and we are very keen to hear from them about how to make the law clearer and easier to follow.
"The responses we get will help inform our next steps in making a workable system for businesses to put into practice that consumers understand and trust."
The consultation follows the five-year anniversary in September of teenager Natasha Ednan-Laperouse's death. The teenager went into cardiac arrest on a flight in July 2016 after suffering a major allergic reaction to sesame, which wasn't declared on the packaging of the Pret a Manger baguette she had eaten.
After much campaigning by her parents, Natasha's Law, which makes full ingredient and allergen labelling mandatory across pre-packed for direct sale (PPDS) items such as sandwiches, cakes and salads, came into force across the UK on 1 October.