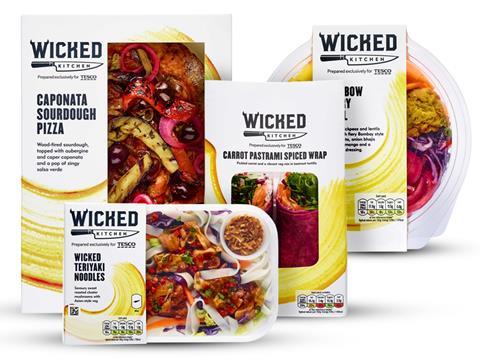 The FSA has launched an investigation after traces of meat were found in own-label vegan and vegetarian products sold by Sainsbury's and Tesco.
Traces of turkey DNA were found in Tesco's Wicked Kitchen Butternut Mac vegan ready meal, while traces of pork were found in a Sainsbury's meat free meatballs, according to an investigation published by The Telegraph over the weekend.
The two retailers said internal investigations were ongoing, though both had conducted DNA tests in response to the allegations, which had found no traces of meat in the products in question.
The Telegraph sent a total of ten meat alternative products to a German testing laboratory, where they were tested for eight types of meat. However, it admitted trace levels were so small that they were unable to give an "exact quantification" of the levels of contamination.
However, its findings did raise "concerns" over the manufacturing processes used by companies supplying meat alternative products to the UK's largest supermarkets, it said, with many products manufactured in factories which also made products containing meat.
An FSA spokesman said its priority was to "ensure consumers can be confident that the food they eat is safe and is what it says it is", and confirmed it was in discussions with The Telegraph over the detail of its investigation.
"Any resulting action will depend upon the evidence found," he added.
It comes amid a boom in sales of plant-based alternatives, with more than 78,000 Brits pledging to give up meat and dairy during January's Veganuary campaign. Tesco was quick to capitalise on the sector's increasing popularity, hiring plant-based pioneer Derek Sarno as its director of plant-based innovation and executive late last year.
Sarno launched the Wicked Kitchen range in Tesco in January, and has since overseen the listing of a host of meat alternative products by the retailer, while US cult hit the Impossible Burger is due to hit shelves later this summer. Sainsbury's and Waitrose have also invested heavily in the category, with Sainsbury's today confirming plans to trial stocking vegan meat alternatives in the meat aisle.
In response to the investigation, Sainsbury's confirmed its meat-free meatballs were made in a meat-free factory, and received regular checks by Sainsbury's and the Vegetarian Society, which accredits its meat-free range.
However, the Society admitted it usually considered site visits unnecessary when the facility exclusively manufactured vegetarian products.
"The Vegetarian Society runs a trademark scheme, the purpose of which is to help customers identify vegetarian and vegan products more easily," said Vegetarian Society CEO Lynne Elliot.
"We have stringent criteria that any product must meet in order to display one of our trademarks. It is the producers' responsibility to ensure production processes are followed and to reduce as far as possible the chance of human error."
Despite calls by religious groups for an urgent recall, both products remained on sale at the time of writing, with Sainsbury's adding it had found "no evidence" to support the allegations.
A Tesco spokesman added: "We take the quality and integrity of our products extremely seriously and understand that our vegan and vegetarian products should be exactly that. We would urge the Telegraph to share full details of their testing, including the lab used, as we continue to investigate."