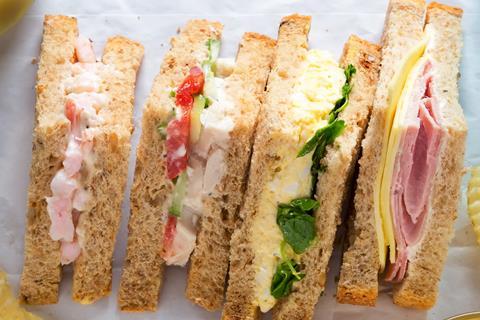 Hospitals should stop serving sandwiches and salads to seriously ill patients, the British Sandwich Association has warned in the wake of a listeria outbreak that left three dead.

Health officials announced last week three patients in two hospitals had died after eating sandwiches contaminated with listeria. In total, six people contracted the bug, which was traced back to cooked meat supplied by North Country Cooked Meats to sandwich maker The Good Food Chain, they said.
Salads and sandwiches linked to the outbreak have been withdrawn and both suppliers have suspended production for investigations. "To date, there have been no associated cases identified outside healthcare organisations, and any risk to the public is low," said Nick Phin, deputy director of the National Infection Service at PHE.

However, British Sandwich Association director Jim Winship warned there could be more listeria outbreaks if hospitals continued serving certain chilled foods to patients vulnerable to serious listeria infections.
"Listeria occurs naturally in some foods like salad leaves, you can't get away from it entirely and there is no regime that can kill it off completely," he told The Grocer. "We have expressed concern for some time that a lot of the products being served in hospitals contain risky ingredients that should not be eaten by vulnerable groups."
Unlike other foodborne bacteria, listeria continues to grow at relatively low temperatures, meaning strict cold-chain control is vital to prevent it multiplying to levels that could cause an infection."Temperatures in hospitals can be quite high and patients don't always eat the food they are served straight away," Winship said.
"So you are putting a chilled food product into an environment which is naturally hot, then serving it to someone in a vulnerable group. There is a huge risk that the tiny minute amount of listeria that might be in that product - although factories will be cleaning everything and trying to get rid of it as much as they can, there is still going to be the odd trace - will suddenly grow."
While eating food contaminated with listeria doesn't cause illness in most people, it can cause a life-threatening infection in pregnant women, the elderly and people with weakened immune systems.

"Doctors are aware of the risks, but it doesn't seem to be getting through to the hospitals and we don't understand why," says Winship.
Almost all hospital listeria outbreaks traced to sandwiches
The FSA published new listeria guidance for the healthcare sector in 2016, after a study by SDS consultancy found almost every hospital outbreak of listeria could be traced back to contaminated sandwiches.

However, it stopped short of suggesting hospitals stop serving chilled ready-to-eat foods to vulnerable patients, saying it was "possible to control the risks" through hygiene controls.

The situation on the ground suggests hospitals are still failing to implement strict enough controls, though, with sandwich makers reporting frequent hold ups during deliveries to hospitals and foods being left out of fridges for longer than they should. "It's a seriously concerning situation", said Winship, adding some members were thinking about no longer supplying hospitals because of the risk involved.

"People who are in hospital and in a bad way should not be served these sorts of foods," he added. "That would take a huge amount of risk out. But despite all the times we've suggested it, it just carries on."

The BSA would be requesting a meeting with the FSA and PHE to discuss how to better raise awareness of the issue among healthcare professionals, he added.

Carina Perkins is editor of thegrocer.co.uk

Carina is responsible for running and developing The Grocer's digital operations. She commissions high-quality digital journalism from our award-winning editorial team and thought-provoking comment from industry players.

Follow Carina on Twitter: @CarinaPerkins