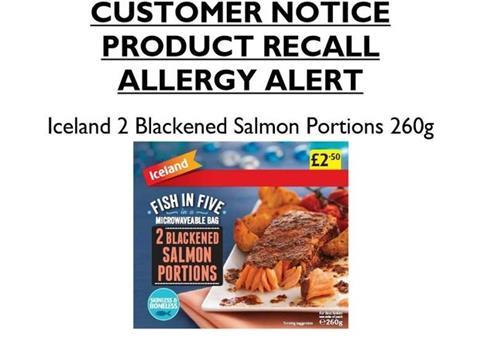 Iceland has recalled three batches of salmon portions as they have been found to contain paprika contaminated with almond protein.
Three batches of 260g Iceland Blackened Salmon Portions have been recalled under the Food Standards Agency notice, which states the product is a possible health risk to anyone with an allergy to almond. The FSA was alerted to the presence of almond protein through a spices testing programme it started earlier this year at ports, retailers and wholesalers, and requested Iceland make the recall.
The recall comes two months after products produced by seasonings supplier Santa Maria - including branded lines and Tesco, Sainsbury's and Morrisons own-label meal kits - were pulled from shelves for also containing paprika contaminated with almond.
Santa Maria said there was no connection its recalls and the new Iceland alert.
The affected Iceland Blackened Salmon Portions are: Best before end 29 July 2016 (Lot No. L5029); Best before end 2 August 2016 (Lot No. L5033); and Best before end 5 September 2016 (Lot No. L5064). No other products are affected. Iceland is advising shoppers who have bought the products not consume them but return them to an Iceland store for a full refund.
Following the February product recalls, industry groups met at a workshop hosted by the Food Standards Agency to discuss weaknesses in the global herbs and spices supply chain. At the time, the FSA said findings from the workshop would be used to inform strategies aimed at further strengthening the robustness of the ­controls on the spice supply industry.