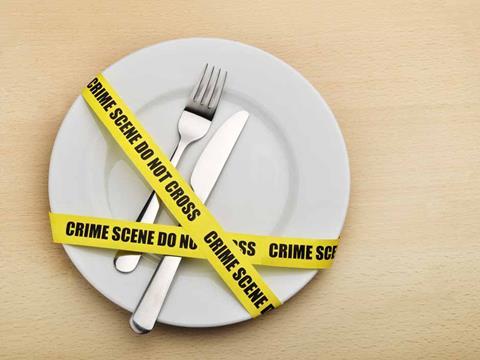 The long-awaited upgrade of the FSA's National Food Crime Unit is a step closer after the government approved the body's first tranche of additional funding.

As The Grocer first reported in February, the funding boost would allow the NFCU to progress to a 'phase two' of development, giving it full investigatory powers.

Chief secretary to the Treasury Liz Truss signed off an extra £2.08m funding for the 2018/19 financial year on 25 May, according to a paper prepared by the unit for the next FSA board meeting on 20 June.

Further funding rounds would follow during the course of the financial year to give the unit a total of £4m to increase its capabilities, the FSA confirmed this week.

An upgraded unit would develop "the required capabilities, powers and mandate to prevent, detect and investigate offences across England, Wales and Northern Ireland", said report author and NFCU head Andy Morling.

A further 60 staff will be recruited, taking the unit's total headcount to 82 across two "discrete but interdependent" police-style commands operating from five locations across England, Wales and Northern Ireland. It is expected to become fully operational by next March.
The unit's strategic objectives will be to prevent food being rendered unsafe or inauthentic through dishonesty; to disrupt offending and to bring offenders to justice; and to build domestic and global counter-food crime capability.

The main difference from its current limited information gathering capabilities would be in the application of "mainstream policing tactics and techniques and the pursuit of evidence to support charges under general criminal law rather than under food law", Morling wrote.

The announcement was a "long time coming", said Eoghan Daly, senior manager of forensic and counter fraud services at accountancy firm Crowe Clark Whitehill. "The NFCU has been operating with its hands behind its back, so this is welcome news, and I understand it is already looking for people with the right skills to staff it, such as forensic financial investigators."
Key challenges
The FSA is proposing the unit will continue to be located within its Operations Directorate, the board paper said, rather than as an arms-length body (as had previously been suggested), following Cabinet Office guidance.

But while this approach supported inter-operability between the FSA and the NFCU, Morling warned it may also give rise to a public perception of potential conflicts of interest, and a perceived lack of operational independence from the wider FSA that may result "in reduced engagement and co-operation from industry and reduced public trust in the integrity of the NFCU and FSA".

Morling said these risks would be "carefully monitored" over the coming months as the unit became fully operational. He has previously warned that the success of the NFCU would also depend on greater engagement from the food industry, particularly on the issue of whistleblowing.

Speaking at William Reed's Foodex exbibition in April, he said the NFCU was "in the jaws of getting all the funding we've ever wished for", but bemoaned the "lack of information" on food crime from the meat industry so far.

"We simply haven't had that engagement. And I am now at a loss to think what more can I can do, other than give an absolute assurance on my professional word that we would not disclose the identity of a source that gave me information," he added. "What more can I do?"