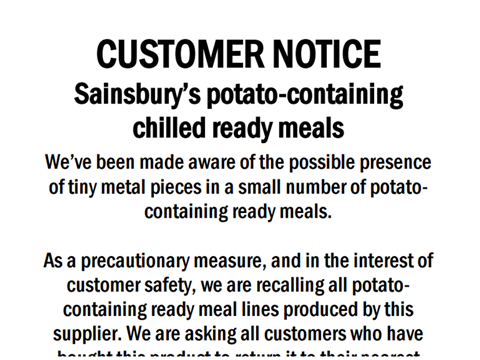 Food standards authorities have set out a plan to improve their food product recall and withdrawal procedures after an increase in the number of global food recalls.

A joint review by the Food Standards Agency and Food Standards Scotland found four areas the authorities could improve on. These included clearer roles, responsibilities and expectations of key players in the system; more accessible and consistent information for consumers; increased consumer awareness of the recall process and actions they should take; and a better system for monitoring the root cause of incidents.

The regulators said they hoped implementing changes in these areas would "increase consumer awareness of the system and improve confidence in its effectiveness".

Proposals will be presented to the FSA board meeting on 20 September. Changes will then begin to take place from October 2017, with the appointment of several programme managers and review groups. All of the proposals are expected to be implemented by March 2020.

"The FSA/FSS have a key leadership role to play as an excellent, accountable and modern regulator, in making sure all food businesses are clear about their responsibilities when producing and supplying food," said the review.

"We believe implementation of the majority of the programme before EU Exit in March 2019 would help mitigate any risk of reduction in consumer confidence in the effectiveness of the UK product recalls and withdrawal system."

The research was commissioned in January, so "consumers have greater protection from food that is unsafe or not what it says it is, and feel more empowered to make informed food choices," said a spokesman for the FSA.

It comes as food & drink recalls unrelated to allergens rose by 78% to 137 recalls in 2015/16, up from 77 in 2014/15, according to research published in June by law firm RPC. The amount of allergen-related recalls also increased by 62% in the period to 144, up from 89 in 2014/15.