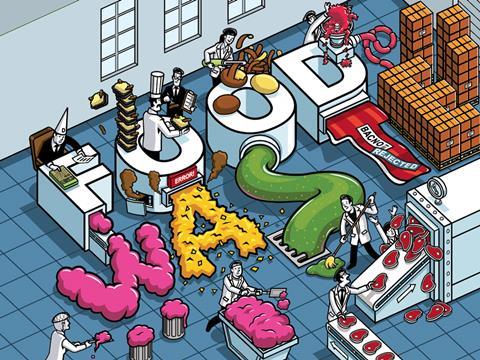 Let's be honest. Supermarkets take most the flak when it comes to food waste. And sure, they've got a lot to answer for. But the little-known fact remains that nearly 90% of wasted food is lost before products even reach supermarket shelves. Wrap says 1.7 million tonnes of food is wasted post-farmgate but pre-retailer as food and drink passes through the labyrinthine supply chain of UK manufacturers. So how is all this waste occurring on the factory floor? And what can be done about it?
1. Bin diving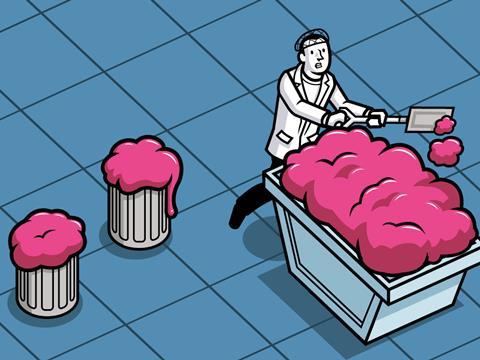 Scandalous as it may sound perfectly good food, which fails to meet increasingly high specifications, is still travelling off production lines and straight into the rubbish bin. It could be "product that was checked and found to be slightly off spec but is still good to eat, or something that has gone slightly wrong with the production process," says Company Shop's Rumboll. "Both are common scenarios identified prior to packaging, which is why it may end up in the bin rather than moving on."
These containers are far from hygiene compliant, leaving food unsafe for redistribution, and to compound the problem manufacturers class the food as inedible waste.
Yet the solution is simple: "If these vessels were lined and made food safe, the product could be packed and redistributed," says Rumboll.
In some sectors, over-fussy specification could also be lowered to prevent rejects, Wrap points out in its 2016 report. And while wonky fruit & veg is now catching on in the mults, in meat, fish and poultry there is "the potential to revise specifications set by customers that can result in significant downgrades eg chops needing to be equally sized, and 'standard' chicken portions."
2. Binning the trimmings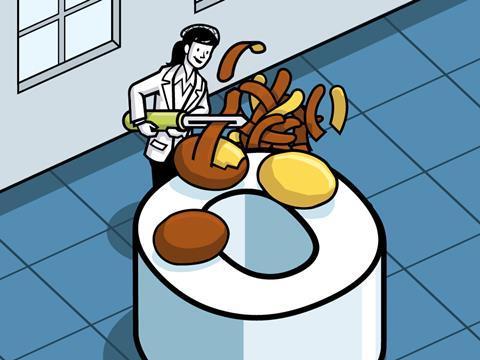 Peelings, trimmings and discarded meat cuts have been key the 950-tonne reduction in food waste at Greencore's Manton Wood site – equivalent to five million sandwiches. Before working with Wrap, the sandwich plant binned 98 tonnes of tomato ends, 13 tonnes of leftover ham cuts and eight tonnes of sausage ends.
Setting up an intervention team to investigate key hot spots, the Derbyshire site drastically cut wastage by rediverting tomato pieces for use in recipes with diced tomatoes, sending ham ends back to their supplier to be used, and developing a method to use small sausage ends in stuffing. Meanwhile, investing in a more modern pair of sausage cutters reduced vibration and cut more accurately, preventing five tonnes of trimmings occurring.
3. Defying gravity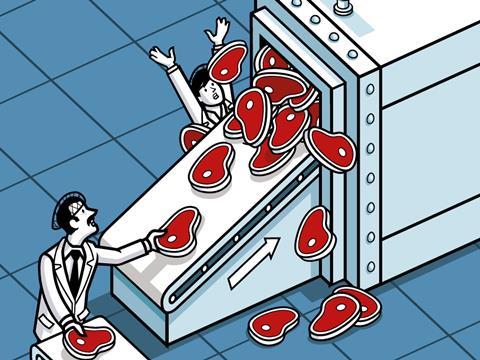 Attempting to defy gravity cost Carlsberg UK £169,000 each year in wasted product. Using an automated system to extract hops from upright 1,000kg bulk containers in its production line, which were changed when empty, left on average 7% of product behind as residue, at a cost of £62 per kg, it found.
The solution – a ramp tipping the product downwards and a bit of extra staff training – cost a tiny £300 and provided a 15-fold payback from the first time a container was emptied.
The simple change as a result of the brewer's waste prevention review contributed to 960 tonnes less product going to waste, and a saving of £510,000 for the brewer over one year.
It's a valuable lesson that every manufacturer can potentially learn from says Wrap. Simply "use gravity by putting mixing operations at a higher level than filling" and "design tanks and pipework to minimise cleaning" in dead spaces and T-junctions.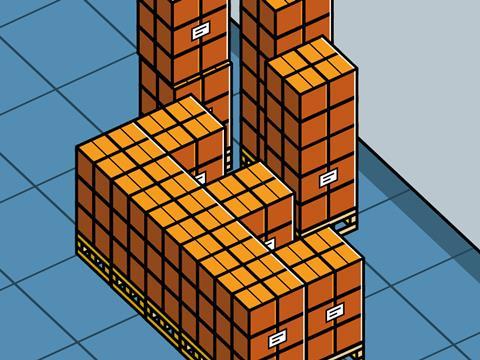 Retailers can be picky about pallets. Those that show up one short or stacked with an odd number may be turned away at the door. So some manufacturers take to overproducing orders 'just in case' they find themselves caught short.
"It's a case of little and often," says Company Shop commercial director Tom Rumboll. A factory with 10 production lines running eight-hour shifts three times per day might produce two extra cases per shift per production line, which in isolation doesn't seem an issue but cumulatively it is: two cases across 10 lines produced three times per day is 60 extra cases daily. Inside each one of those cases might be 24 products. That's 1,440 units going to waste in a single factory in a single day.
5. Dodgy paperwork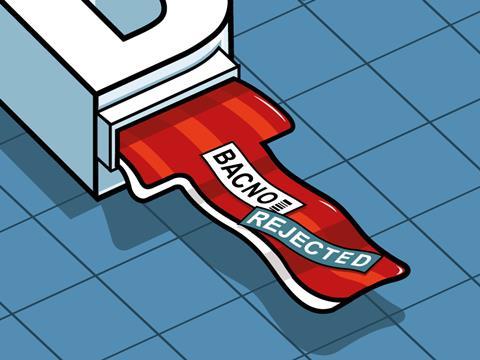 A bad barcode or misspelt label can lead to entire loads rejected by retailers, claims engineers Printronix Auto ID, with hefty chargeback fees issued to suppliers – not to mention entire pallets of food going to waste. One supermarket is said to fine £40,000 per incident, they say, with goods returned at the manufacturer's expense. "Industry reports suggest chargebacks can reduce supplier revenues by up to 10%, making them a significant cause for concern," says sales and marketing director Amine Soubai. "And some brands refuse to allow manufacturers to then redistribute this good food for fear of damage to their brand reputation."
Supermarkets might not accept the allegation ("the majority of examples would have been stopped by a manufacturer at their gate, rather than be rejected at ours," Tesco group quality director Tim Smith pointed out to the Efra select committee last week). But whoever the culprit, this rejected product should be redistributed, says Wrap, so long as it's "safe to consume."
Charities such as FareShare and commercial operators like Company Shop can make use of mislabelled or mispackaged food, with major manufacturers such as Unilever already using this route. "Where products are fit for human consumption but have been mislabelled or fall below brand standards we endeavour to sell these at our on-site staff shops or through our charity partners," says sustainability director Charlotte Carroll. "However, if there is a high volume of mislabelled products, these will be re-labelled to prevent avoidable waste."
6. Bad maths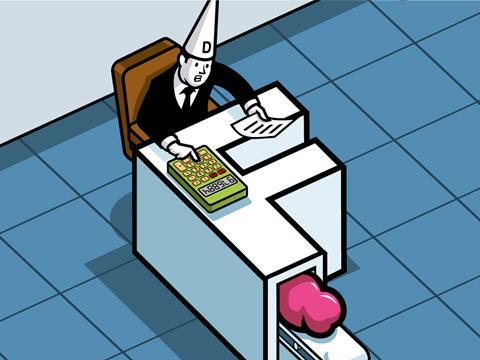 KPIs might help drive profits, but they aren't reliable when it comes to food waste, says Wrap. Many suppliers use yield as a waste measure, for example, but this often leaves out predicted process losses, so companies "don't really understand how much waste they are actually producing".
"What we've seen through our research is that because waste can arise at all stages of production, and for many different reasons it's more likely that waste prevention opportunities, and indeed opportunities to identify food that could be redistributed, can be found if a more detailed approach is taken within a business," says Estelle Herszenhorn, Wrap's special food and drink advisor.
"One approach that can really help is value stream mapping – which looks at a food production process to identify food waste and opportunities to prevent it, or see if it can be redistributed."
7. Machinery meltdowns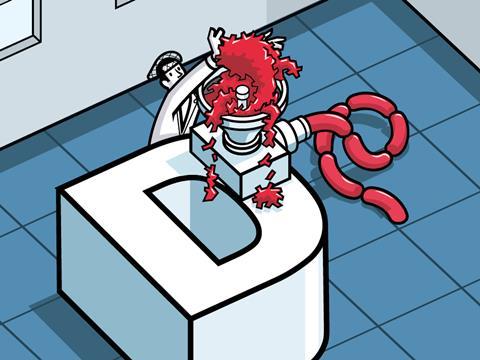 Machines may be quicker, slicker and less prone to clumsy mistakes than their human counterparts but when they go wrong they too can lead to huge amounts of food going to waste.
Performance problems with machinery are one of the top causes of waste in the processed foods sector, says Wrap, with product blockages and "mechanical mishandling" accounting for up to three quarters of the total food wasted by ready meals and chilled product manufacturers, a sector that produces 12% of total waste in the food and drink supply chain, says the charity.
Other highly automated industries such as confectionery can find themselves vulnerable too, pointed out the authors of Wrap's 2016 report, where failures to frequently check production belts, and breakdowns of vast overhead hoppers were highlighted as major causes of waste.
And even when machinery doesn't malfunction, simply swapping out old ingredients between different production runs, if done inefficiently, can lead to unnecessary wasted stock, says Biffa senior contracts manager Jeremy Barker. "When changing the settings of machinery from one product to another, there is usually a 'run off' of the old product ingredients before the newer ones are put on," he explains."And this will often get wasted and put straight into general waste."
Adopting Wrap's 5-5-5 approach to waste reduction can help all manufacturers to cut back on this source of waste, say the charity. It includes thinking about "better operational practices" such as changes to breakdown procedures or frequently 'walking the line' to anticipate problems.
8. Failing to safeguard sludge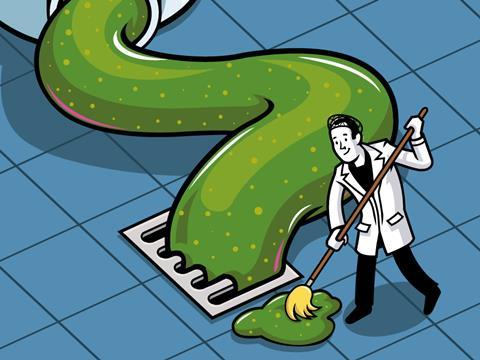 As Wrap highlighted in 2016 the relationship between food waste and on-site sludge is uncertain, but there is little doubt the product lost in wastewater mopped up during factory cleans may be substantial in some sectors. In dairy, 90% of the waste streams Wrap accounted for was made up of "treatment sludge" while in meat, fish and poultry an estimated 320,000 tonnes of the food wasted was likely to be floating in sludge, around a quarter (22%) of which was completely avoidable.
"In sub-sectors producing liquid products or using liquid ingredients the inputs to on-site treatment processes will contain significant quantities of production rejects and residues, for example finished product, ingredients and food-related materials units," said the authors.
9. Bulk buys and backflushing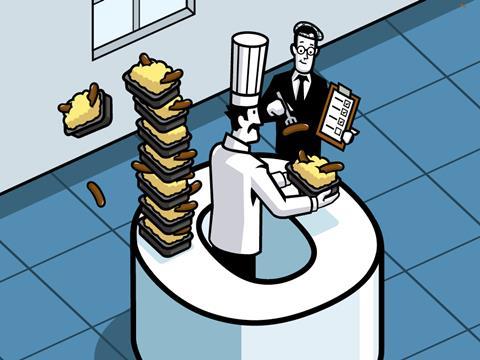 Buying in bulk slashes bills. But that means "sometimes manufacturers' procurement departments may over order on ingredients to obtain a cheaper unit price," says Biffa senior contracts manager Jeremy Barker.
"However, if the demand is simply not there for such a large amount of product, you're left with out-of-date, wasted stock." Many manufacturers also measure ingredient costs by 'backflushing' – where volumes (and prices) are only totted up at the end of production making no deductions for any wasted stock via hiccups in production. This means the next time an order is placed the quantities are higher than they need be, says Mark Wilkinson, supply chain consultant at Indigo Software. One example would be in processed meats, where extra ingredients are fed into processors "so the production system always has sufficient inventory" for just-in-time supply, he explains. "This can often result in ingredient packaging opened unnecessarily, causing an immediate reduction in shelf life."
10. Reformulation waste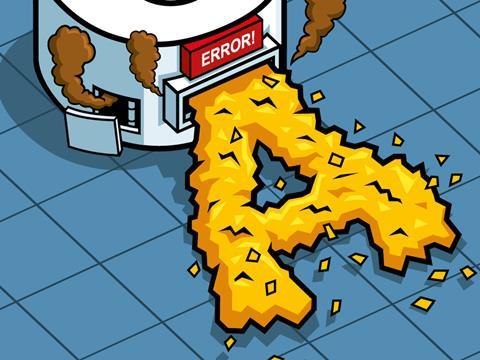 Innovation is key in any fmcg business but it can also create food waste, says Company Shop's Tom Rumboll. After new concepts have been dreamed up in the food lab, the next step in any NPD will be a factory batch trial. That could mean "2,000 products made but only five required for tasting, with the other 1,995 waste," he says. Served up in incomplete packaging with draft labels (and even draft ingredients), these are often viewed as market sensitive and therefore inappropriate for redistribution.
"This is a huge hidden cause of waste, I believe, and with so much NPD, is a real opportunity to get more food to more people," Rumboll adds.
What's more, with reformulation crucial as a result of the sugar levy and the ongoing demand for higher protein, lower fat, or lower salt SKUs, this could be a cause of food waste that escalates in coming months.