The number of food banks in the UK has rocketed – but the way in which supermarkets support them varies wildly. So who's getting it right?
Ten years ago, food banks were the exception, not the rule. In 2008, only 7% of the UK's local authorities had opened temporary food banks, dotted around village halls, community centres and churches. The Trussell Trust was in the early stages of establishing its national network. And 26,000 people had been referred to receive emergency food parcels.

In 2018 that number had risen 500%, with a reported 2,000-plus food banks delivering supplies to 1.6 million people living in food poverty. That's no less than four times higher than when prime minister David Cameron squirmed under Jeremy Paxman's TV grilling over the issue during the 2015 election campaign, just four years ago. In line with this exponential growth is the need for ever-increasing volumes of donated groceries, a job for which - in many ways - supermarkets seem the most natural partners. And some major retailers have incorporated valuable support for the network into their CSR schemes (see box).

But it isn't a relationship without its challenges, both logistical and otherwise. Not least as the spotlight on surplus food in recent years has thrown new scrutiny on the manner in which supermarkets donate to those most in need. So, as the number of food banks continues to rise, how have these partnerships evolved? And who's getting it most right?

For some supermarkets, directly partnering with food banks remains core to their corporate responsibility. Tesco, for instance, has a long-standing national partnership with The Trussell Trust (which oversees the running of some 1,200 centres in the UK) which includes both permanent collection points in its stores open all year round, and the annual Tesco Food Collection, a three-day event in November that sees volunteers gather additional food in the run-up to Christmas, typically the busiest period for food banks.

"Key in that Tesco relationship is that they provide a 20% financial top-up on the weight of food that's donated, which can be used for all those costs that charities have," adds Emma Thorogood, a spokeswoman for The Trussell Trust.

Sainsbury's too has expanded its food donation scheme - which includes collection points - in the past year to 1,425 stores, while Waitrose contributed 470 tonnes of donated goods to The Trussell Trust in 2018.

Asda, meanwhile, has supplemented this type of in-store support with a pot of £9m made available over three years from which food banks can apply for a grant, via its broader Fight Hunger, Create Change initiative. As well as paying for day-to-day costs, the cash is also funding research into the drivers behind food poverty as part of efforts "to get to a future where we don't need food banks any more," explains Thorogood.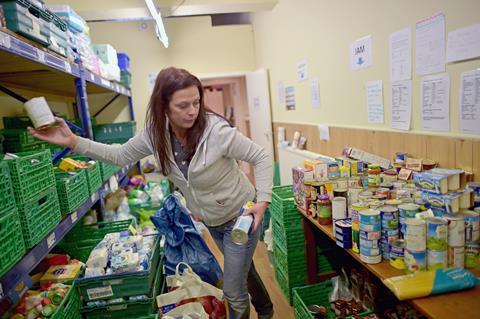 Surplus schemes
But other major grocers have demonstrated less appetite to forge direct partnerships with food banks. Instead, many supermarkets appear to be increasingly absorbing donations to food banks into their work on surplus food, with food banks no more or less likely to receive donations than any other local cause as part of their redistribution schemes.

Lidl, for example, donates to food banks only via its food distribution programme Feed it Back, which involves the donation of edible surplus. A spokesman says the retailer feels this approach enables it to "make the most positive difference to local communities".

Aldi takes a similar stance, pointing to the more than two million meals it donated in 2018 via its food surplus redistribution partners "to a wide range of beneficiaries, including homeless charities, after school clubs, women's refuges and children's breakfast clubs".

Even those grocers for which food banks are top of the CSR agenda have tended to fuse the two. Tesco's annual food collection, for instance, benefits both The Trussell Trust and FareShare, while Asda's £9m grant to The Trussell Trust is part of a £20m fund that also incorporates support for FareShare.

There are a number of reasons grocers may increasingly regard surplus schemes as the more effective way to support charities, experts suggest, rather than asking shoppers to deposit items at collection points.

For one, much as food banks themselves were never intended as a permanent solution to food poverty, many in-store donation schemes lack long-term strategy. As a result there are challenges around how efficiently and effectively they currently deliver support.
"Food banks are consistently running out of items that they need or receiving too many of items that aren't needed"
In particular, there can be a mismatch between demand and the donations that shoppers drop off at collection points. "Our network provides a standard parcel, checked by nutritionists to ensure it's nutritionally balanced, and so there are certain items we'd need food banks in our network to make sure they're putting in a parcel but they may not be items you'd necessarily think to donate, like UHT milk, tinned fish and tinned fruit," says Thorogood.
As a result "food banks are consistently running out of items they need or receiving too many of items that aren't needed, which causes storage problems and food wastage," adds Robin Ferris, founder of Bankuet, a scheme intended to streamline donations. "I've met food banks in London with two years' worth of pasta and baked beans. When I look at the ecosystem the support from supermarkets is brilliant, food banks are dependent upon it, but there are operational efficiencies and a slicker way of approaching it."

The grocers themselves have taken steps to overcome this challenge. In late 2018 for instance, Sainsbury's introduced shelf-edge labelling in stores to alert shoppers to the food and drink most useful to food banks, flagging up priority items. A whopping 150,000 signed a petition calling on other supermarkets to follow suit.

Then there are independent initiatives such as Bankuet, which aims to streamline the process by allowing donors to buy and donate supermarket items via a single online platform. Currently testing the concept at Wandsworth Foodbank, the aim is for users to select from items listed on the website, which only includes those flagged up as necessary by the food banks themselves, and pay an additional service charge to cover the costs of sourcing and transporting these items from the retailer to the charity.

"The vision is to enable food banks with digital tools to multiply their work tackling food poverty by getting them precisely what they need, when they need it and making it easier to give," says Ferris.

The scheme is showing real promise, says Dan Frith, manager at the Wandsworth Foodbank. "With Bankuet we are able to submit a bespoke 'wishlist' of exactly what is needed and what quantities will be most helpful."
"Why can't we make a platform on which anyone from anywhere can give, from whatever device you want to use?"
"The intention as we scale though is to find a technology and fulfilment partner," adds Ferris. "There are over 2,000 food banks in the UK and if I was shooting big I'd say why can't we make a platform on which anyone from anywhere can give, from whatever device you want to use?" He's in talks with "various people" to fulfil that aim, and insists the grocers are receptive.

But it might not simply be a lack of logistical efficiencies that has seen some grocers shift their giving to a solely surplus-based approach.

There is huge public focus on waste in the supply chain, after all. "Surplus has become very front of mind and I should imagine that the targets set by Wrap and what we've committed to as a country, in terms of reducing waste by 50% by 2030, are macro influences on all of our retailers shining a spotlight on surplus food," suggests Neighbourly COO Zoë Colosimo.

As a result of this focus, in fact - in contrast to food banks, where more targeted solutions are only in their infancy - there are now a number of well-established and sophisticated structures by which supermarkets can streamline how they separate, store and donate surplus. From mobile apps connecting back-of-store staff to local charities, to state-of-the-art measuring systems to aid waste reduction and scanners that flag up products approaching the end of their shelf life, food surplus as a sector is awash in technology.
Food bank vs food bank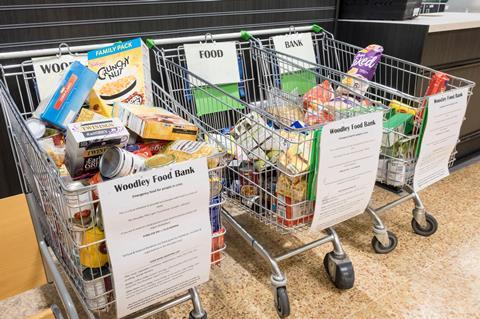 The fact that the UK has adopted a different definition for 'food bank' to the rest of Europe only serves to make the confusion between surplus and food poverty greater.
In the UK, a food bank refers to organisations providing emergency food provision to those struggling to make ends meet, normally in the form of a parcel of (mainly) ambient food that can be used with limited cooking or refrigeration facilities. To access a food bank in the UK, people will most likely have been referred by Citizens Advice, a social worker, school, GP or other healthcare professional. There are around 2,000 food banks in the UK, 1,200 of which are operated by The Trussell Trust. The remainder are run independently.
In the rest of Europe, however, a food bank refers to organisations that redistribute surplus food to charities, the equivalent of a FareShare here in the UK. "For the avoidance of any confusion, store-level surplus food redistribution schemes aren't the same as food banks," sums up Alyson Walsh, FareShare's commercial director. "These schemes deal with food that's left over at the end of the day. That unsold food is then collected by charities and community groups who use it create meals and snacks for the people they support, whereas food banks provide emergency food parcels to those experiencing severe food insecurity. That food is usually donated by the public."
The European Food Banks Federation, for example, represents 421 food banks in 24 countries, which collectively provided 781,000 tonnes of surplus food - the equivalent to 4.3 million daily meals - to 45,700 charitable organisations for the benefit of 9.3 million deprived people in 2018.
Political element
Then there's the fact that the very existence of food banks - and their rapid growth - is deeply political. A letter to The Guardian this March, signed by no fewer than 58 campaigners, lobbyists, academics and experts, argued that the institutionalisation of UK food banks that require donations from supermarkets 'benefits the reputations of Big Food and supermarket chains [by painting them as] good corporate citizens while distracting attention away from low wages paid to their workers'. So could some grocers be opting for surplus simply as it's less politically contentious?

Building food banks into any CSR initiative is troublesome, agrees Professor Tim Lang, one of the signatories to the letter. "There is now wide agreement within the food banks world that actually food banks are to some extent dealing with the oversupply in the British food system," he says. "There's not a shortage of food but a wall of food that comes out the food system, a machine on a gargantuan scale. It is outrageous that in this economy we have people suffering shortages of food due to lack of money. In that sense, food banks are plugging the gap in the machine of the food system's failings." A food system in which the supermarkets themselves are instrumental.
"There is now wide agreement that food banks are to some extent dealing with the oversupply in the British food system"
Colosimo thinks the reality is more complicated. After all, "there's an urgent need to help connect surplus food. And also an urgent need to receive surplus, and it's not just at food banks. When we're looking at food donations, food banks make up a minority [on our platform] with the need spread across the community in a much broader capacity." Whatever the drivers behind it though, conflating the redistribution of surplus food with donations to food banks is problematic. At a practical level, surplus is often made up predominantly of fresh, short shelf-life foods. Ideal for a soup kitchen or lunch club cooking fresh food on a daily basis. But far less suitable for a pop-up food bank with little storage and a need for mostly ambient foods to distribute to those often living with only the most basic cooking facilities, and sometimes no refrigeration.

At an intellectual level it also risks confusing two very different issues. "People coming to food banks is about people not having enough money, and the solution to ending the need for that is ensuring they have enough money to go to a supermarket and buy food," says Thorogood. "Whereas surplus food and overproduction in the food system is a very different issue. Saying one can be a solution for another is not addressing the reasons why people need to come to food banks in the first place."

A misguided belief to which the supermarkets may be unwittingly giving credence.
What are the supermarkets doing?
Aldi UK
Aldi says it donates to food banks via its redistribution schemes. In 2018 it donated the equivalent of more than two million meals "to a wide range of beneficiaries". For the past two years it has also donated food on Christmas Eve, with more than "500 charities and food banks" among the recipients. It adds: "We are also rolling out a partnership with Neighbourly, so we can continue to donate food to good causes all year round. By the end of August, we are aiming for all Aldi stores to be paired up with local charities/food banks."
Asda
As well as collecting donations to food banks at the front of its stores and linking each store with a local food bank (or up to three in some areas) Asda has also committed a sizeable chunk of cash to supporting food banks via its Fight Hunger, Create Change initiative. As part of a £20m commitment to both The Trussell Trust and FareShare UK over three years, a pot of £9m was made available to the trust's network. Individual food banks can make applications to the fund, while the money is also being used to fund major research into food poverty.
Co-op
As part of the new iteration of its membership scheme, launched in 2016, 1% of what members of the Co-op spend in store is donated to local community causes. Food banks, among many other community projects, can apply to be the recipients of this support, with £28.8m given to UK projects in 2018 and £2.9m to causes in international communities. They can also apply to be a charity partner in the Co-op's Food Share scheme, via which surplus products are picked up from stores at the end of each day.
Iceland
Iceland doesn't have any initiatives targeted solely at food banks, but it says "we redirect some 80% of the surplus food from our depots for use in the community via Company Shop, and this includes support for their Community Shop social supermarkets. Last December we also donated 600 Christmas lunches to their members." It has also donated freezers to food banks via The Trussell Trust. "We are working hard to find a practical solution that will allow us to help more food banks and other local charities by donating unsold food from our stores."
Lidl UK
Lidl says it believes the best way it can support community causes is via its surplus redistribution programme. Launched in August 2017, the Feed it Back scheme connects "all Lidl stores across England, Scotland and Wales directly with local good causes such as food banks and charities". Since it began, the scheme has seen 1,700 local causes receive more than 1,600 tonnes of surplus. The retailer adds: "We were also the first retailer to sign up to Neighbourly's #FundaFridge campaign, donating fridges and freezers to groups that struggle with storage."
M&S
Marks & Spencer says it distributes surplus food to more than 950 charities and organisations, which includes 60 Trussell Trust food banks. In addition, individual stores select local charities to champion each year, which includes supporting several food banks.
Morrisons
Morrisons has collection points in stores through which shoppers can donate items to Trussell Trust food banks, and also provides a list of most needed items on its website. The retailer also works with "450 local community groups to redistribute edible surplus that can't be sold in our stores. Since the programme began in 2016, we've donated 5.1 million unsold food products, the equivalent of over 2,000 tonnes." Via the Morrisons Foundation it has also donated more than £330,000 to food redistribution organisations.
Sainsbury's
As a reflection of the growth in food banks, Sainsbury's rolled out its food donation programme even further last year, with collection points at 1,425 stores and 87% of stores paired with a community food partner. In late 2018 it also launched a much-lauded new shelf labelling system to help shoppers donate items more effectively. The idea of students on a National Citizen Service initiative, the labels flag up items most in need by food banks, such as tinned fish, tinned fruit and long-life fruit juice.
Tesco
Tesco has a long-standing relationship with The Trussell Trust. Individual stores have both regular collection points allowing shoppers to donate goods on a regular basis and take part in the grocers' annual Food Collection in November, during which food bank volunteers are on hand to raise additional awareness in the run-up to Christmas. At this annual event, Tesco also supplies shopping lists to customers flagging up the most-needed items. The retailer also tops up 20% of the financial value of the volume donated in order to assist charities with additional costs.
Waitrose
Waitrose has a partnership with The Trussell Trust now in its eighth year, which includes permanent collection points in stores, collecting both food and non-food items, with more than 470 tonnes donated in 2018 alone. It also joins forces with the charity on other initiatives, such as its 'Tea for Trussell' fundraiser. In 2017 the retailer also covered the core costs of the charity's Eat Well, Spend Less courses, which teach cookery skills and household budgeting tips to make tight budgets stretch further.