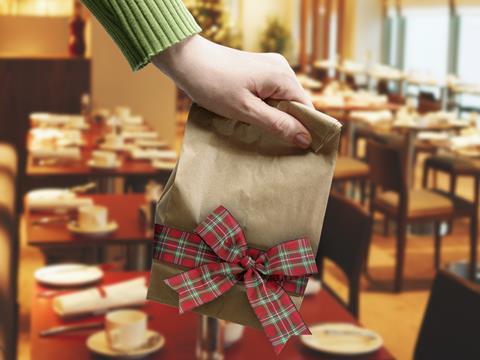 Let's face it: doggy bags are a touch taboo. Whispering to a waiter you'd like that forty quid fillet steak wrapped up in tin foil feels a bit vulgar. Or, worse, a bit cheap. Most of us prefer to go without than risk looking tacky as we sidle out of a restaurant, brown paper bag under one arm. At least if you're a stuffy English person, that is.

In Scotland they're over it. Confronted with the news that 53,500 tonnes of food is wasted by Scottish restaurants each year, two thirds of which could've been avoided, more than 100 restaurants have now signed up to the government's Good to Go scheme. Diners now don't even have to ask, with staff handing over leftovers in branded boxes as a matter of course. It's a simple change, but one experts say could rescue 800,000 meals from the bin each year.

It's the latest in a long line of initiatives from north of the border as Scotland emerges a frontrunner in the fight against food waste.

From food recycling rollouts to redistribution and Europe's first national target on waste, why has Scotland taken such a lead? And what progress is it making?
Wales
In Welsh households they're putting the rest of the UK to shame with the lowest levels of food waste per person. A Wrap report in January revealed a 12% drop since 2009, with only 9kg of food binned per person, per year - putting it "significantly lower" than England, Scotland and Northern Ireland. There is plenty more to do though, with households still chucking out 300,000 tonnes and Welsh businesses contributing to the 270,000 tonnes of edible food that went to waste in 2015, at an estimated cost of £1,800 per tonne. But there is work going on. FareShare Cymru has redistributed four million meals in the past five years, significant investment has been made into the AD sector and Wrap Cymru offers one-to-one support for companies.
Northern Ireland
Following in Scotland's footsteps, Northern Ireland introduced its own food waste law in 2016, requiring all businesses producing more than 50kg of waste per week to separate it out for collection. Those "regularly" throwing out this amount were forced to comply from April 2016, while those with waste of between 5kg and 50kg had an extra 12 months to comply. From 1 April this year, chucking food waste down the drain or into a sewer will be illegal too, while dumping it at a landfill site has already been prohibited for two years. As far back as 2013 business leaders, NGOs and public sector experts gathered in Belfast to discuss what more could be done, and launching collective action initiative 'Too Good to Waste: Realising the Value of Food'.
"One of the things we consciously sell the image of Scottish produce on is green landscapes and pristine waters, and the industry has to play an enormous part in making sure the image we portray is what people see when they come to Scotland," says David Thomson, CEO of FDF Scotland.

Indeed "world leading standards of environmental sustainability" were central to the Scottish Food and Drink Partnership's plan for growth across the sector, unveiled in March, with a goal to double turnover from £14.4bn to £30bn by 2030.

As far back as 2011, the Scottish government began rolling out food waste recycling to all households. So far it has invested £25m, with 80% of Scots now given access to separate food waste collections compared with less than 50% in England.

The scheme helped achieve a steady drop in household food waste of 7% across Scotland since 2009, believes Iain Gulland, CEO of Zero Waste Scotland (ZWS), compared with a worrying 4.2% rise in household waste from 2012 to 2015 across the UK as a whole. "Everybody recognises when people start to separate their food waste out, they re-engage with their food," he says.

Significantly, from January last year all Scottish businesses producing more than 5kg of waste per week are required to present it for separate food waste collections too, down from a 50kg threshold. Offenders caught binning leftovers could face fines of up to £10,000 from the Scottish Environmental Protection Agency (Sepa). No such policy exists in England.

This markedly stricter approach helps explain the decision in 2014 to split from Wrap, with Zero Waste Scotland left to handle its own waste. "There was a recognition that policy areas were becoming more diverse, both in the direction of travel and speed", says Gulland. And in terms of the cash up for grabs too.

While Wrap has watched funding from Whitehall plummet by up to 40% since 2014, Nicola Sturgeon's SNP government has dug deep. It will be providing more than half the funds for a three-year £70m program of initiatives led by ZWS, with the plan to draw the remaining £31m from an EU fund.

This leaves ZWS with the cash to carry out one-to-one waste audits for food and drink companies, offer grants to SMEs and offer further food waste funding for businesses looking to innovate around waste.
Government workshops
"We're working with key sectors in the industry, be it brewing or baking, looking at the most common challenges they have around food waste and what technological solutions could be brought to bear," adds Gulland. "At the moment we're helping government to run workshops too, pooling together people from across the food and drink industry, community groups and public agencies," says Gulland.

It's working. Only three years ago, FareShare branches in Scotland received just 350 tonnes of surplus food from retailers and manufacturers, a figure that increased by 443% to 1,900 tonnes in 2016. Last year alone, volumes grew 43%, more than double the 19% growth across the rest of the UK.
'Food waste is a cost to our businesses. We've quantified that in a number of one-to-one support audits
"FareShare in Scotland benefits from a mature policy environment, with unique initiatives addressing food waste and supported by the Scottish government over the last three years to the tune of £750,000," says Gillian Kynoch, head of FareShare Scotland.

It's encouraging the "enormous amount of activity", adds Thomson, from major suppliers such as MacSween which now recycle 100% of their surplus by turning it into fuel, to passionate smaller producers such as Ivan Wood & Sons.

At the Fife-based fruit & veg wholesaler, MD Malcolm Wood recalls excitedly his food waste "eureka moment" devising a new unit to catch potato peelings lost down the drain. The invention rescues 6,000kg of food from his rubbish bin per week.He insists it could be rolled out to the UK's 10,500 chippies (which currently throw out 225 million tonnes of peelings per year).

And still the Scottish government wasn't satisfied. Adamant wanting "to create a greater sense of urgency," says Thomson, it went ahead with what no European country has done before, launching a national target to reduce food waste in February 2016.
Committing to cut food waste by 33% by 2025, it could save the country at least £500m, though it did ruffle a few feathers too. Not least among food firms that Thomson says (diplomatically) didn't "exactly see the target as necessary". Questions remain over whether it puts businesses forced to invest in food waste at a disadvantage to counterparts south of the border, he adds.

But Gulland insists the benefit is mutual. "Food waste is a cost to our businesses," he says. "We've quantified that in a number of one-to-one support audits and you could argue it's Scottish companies that deliver on this target that will be more competitive in the UK context."
Scottish postcards
And any that grumbled would've fallen silent in November when new food waste data revealed the previous approach simply wasn't working. Data released by ZWS in November 2016 made startlingly clear the scale of the challenge, with 1.35 million tonnes of food waste lingering across both industry (740,000 tonnes) and households (600,000 tonnes) in 2013. That's 13.5% of the 10 million tonnes Wrap estimates for the UK as a whole, despite Scots making up only 8.2% of the total population. Hardly the stuff of Scottish postcards.

The estimates aren't foolproof. Even ZWS admitted that data on food destined for animal feed was "inconsistent" and "large amounts of non-food materials such as soil, stones and water" could have bulked up totals. The figures "don't tell the true story of food waste in manufacturing," insists Thomson, with the FDF keen to "work with ZWS to refine that estimate".

Nonetheless for a country priding itself on its green credentials the data was "staggering," admitted Roseanna Cunningham, cabinet secretary for environment. "That is why I welcome the government's ambition" in setting an "extremely ambitious" target.

But the big question remains: is it achievable? "Considering that there are parts of the country that do not yet even recycle food waste, it would be remiss if I did not remark on the minister's bravery in committing to the target," Cunningham added.

It will be a challenge, agrees Gulland. Not least as "the government have pushed the figure slightly so it's not a given we'll get there. We do all need to roll our sleeves up. But at the moment there's a lot of interest in it with companies coming to the table, and people that genuinely believe this is something we need to tackle. That suggests to me people want to show leadership."

And no doubt putting the stuffy English to shame for stupidly shunning doggy bags will be a pretty welcome bonus too.