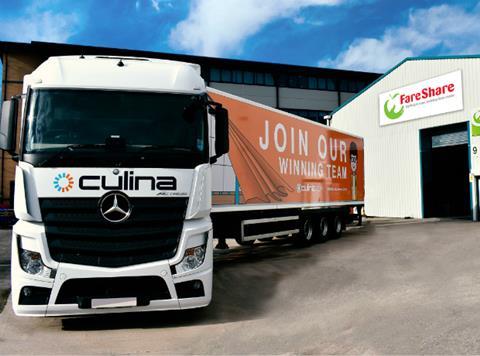 Cheese manufacturer Lactalis McLelland has teamed up with FareShare to redistribute excess cheeses to those in need.

All Lactalis brands including Seriously, Galloway, Orkney, Président and Galbani, as well the own label cheeses it makes, will be redistributed throughout FareShare's regional networks as part of the deal.

"Our primary objective is always to match supply and demand. However, from time to time operational challenges cause a surplus that can't be used in normal channels," said Mark Taylor, CEO and group MD for Lactalis McLelland UK & Ireland. "We are delighted to partner with FareShare to ensure excess stock is used to feed those most in need."

FareShare took its first delivery from Lactalis in November, with logistics contract manager at Lactalis Catalina McMillan heading up the initiative.
Commercial manager at FareShare Michael Shields said: "We value Lactalis McLelland's proactive approach to its surplus, recognising which products might otherwise go to waste and working closely with FareShare to divert this food to vulnerable people instead. Thanks to our partnership, the frontline charities we support can receive a regular supply of versatile dairy products."

It comes as Culina Logistics also announced a partnership with FareShare, providing upwards of 446,000 meals to those in need since the two joined forces in June, with juice and smoothie giant Innocent one of the first of Culina's customers to sign up.

Brands often have food that FareShare could put to use that never reaches consumers because of issues such as forecasting, mislabelling or promotional items not selling as expected, said a Culina spokesman. By sending surplus stock to FareShare, Culina said its customers were saving on costs such as return of food, collections of food bins, landfill tax and labour to remove packaging.

"Some big brands agreed to contribute stock to FareShare and we are adding more daily. By sending surplus stock to FareShare, Culina Logistics clients are actually saving money," said Culina Logistics supervisor Sian Davies.

"We find that the biggest barrier for food companies sending surplus stock to charities is the cost of transporting it. If making your company's surplus food available to FareShare is cheaper than disposing of it, it becomes a no-brainer. This is what Culina has made possible, and encourage others in the industry to follow suit, making it easy and financially viable to do the right thing."

● 'Are you #seriousaboutsurplus? Then sign our petition to get more edible surplus food to charity