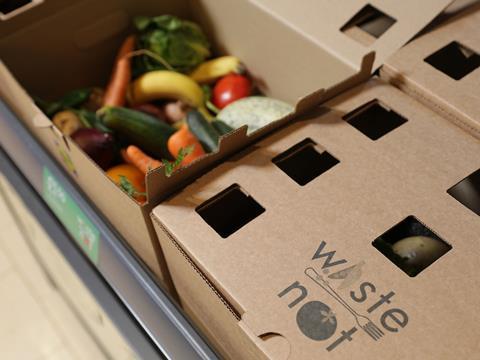 Lidl has begun selling slightly damaged fruit & veg at a discount in a bid to cut food waste.

Produce "no longer at its perfect best but still perfectly good to eat" for reasons such as light bruising will be sold in 5kg boxes for £1.50 as part of the discounter's Too Good to Waste trial.

The initiative is set to roll out at 122 selected stores this week ahead of a potential national rollout, with the boxes sold each morning from 8am until 10am, after which time any unsold produce will be donated to charities.

It follows in the footsteps of Asda's 5kg wonky veg box, which was launched in 2016 and costs £3.50, and Morrisons' 4kg wonky veg box, which launched last September at a cost of £3. Lidl already offers 30% discounts on fruit and veg almost at its best-before or use-by dates.

If the trial were to be rolled out across Lidl's estate of 710 stores, the boxes could potentially save some 10,000 tonnes of surplus produce a year, the retailer said.
"Proportionately, we sell the most fruit & veg in the sector, but we know from our data that fresh produce is one of the biggest contributors to food waste in stores," said Lidl UK CEO Christian Härtnagel.

"We're excited by the difference our Too Good to Waste initiative will make," he added.

"Not only will it help customers consider items they might have previously dismissed, it will also provide an opportunity for them to make ­further savings."

It comes as Lidl published food waste figures for the first time, reporting a 2.4% cut in total surplus across England, Scotland and Wales this week, from 38,617 tonnes in 2016 to 37,701 in 2017.

Average food waste per store fell by 13.3% to 41.4 tonnes, taking the discounter more than halfway towards a target of cutting food waste per store by 25% by 2020.