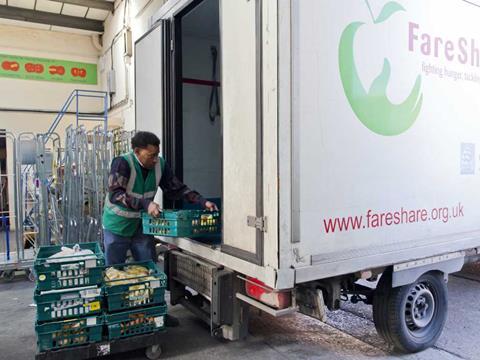 Surplus food donated to FareShare increased 15% in the past year, says the charity.

According to its annual report, nearly 10,500 tonnes of food were donated by supermarkets, manufacturers and foodservice operators in 2016/17, up from approximately 9,100 in 2015/16.

This included a 28% growth in the amount of meat, fish and dairy reaching its network of 5000+ charities and a 13% rise in the volume of fresh fruit & veg donated.

"The overall volume out there is dramatic and we've made some brilliant progress," said director of food Mark Varney. However "a lot of our retail partners are experiencing some efficiencies in waste management reduction, partly as a result of working with us, so the volume we get from them has come down a little bit. The environmental part of us is delighted, but the part trying to feed people needs more companies."

The charity signed up 130 new companies in the past year, with "really strong growth from manufacturers" added Varney, with the likes of Kerry Foods, General Mills, Albert Bartlett and Samworth Brothers all donating extra volume. "We have been doing more with the foodservice sector too, particularly the likes of Bidvest and its retail partners."

The charity has confirmed the opening of a new centre in East Anglia. But Varney said the biggest stumbling block remained the cheap relative costs of disposal compared with charitable redistribution, with some manufacturers paying as little as £5 per pallet to have surplus binned or burned, compared to the estimated £100 per tonne to redistribute. "I understand the business need, my frustration is with the government and the lack of engagement on that," added Varney.