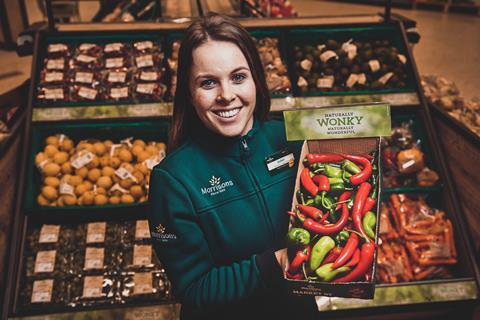 Morrisons has added chillies to its Wonky produce lineup as it announces plans to promote its range of imperfect fruit and veg on TV.

With defects including missing stalks, extreme curvature, imperfect colouring and smaller size, the chillies would taste the same as the usual variety, said a Morrions spokesman. But they would be priced at 61p/100g in comparison to the standard variety at £1.00/100g.
The retailer has also announced its first frozen wonky SKU, a 1kg bag of mixed berries, while it has also promised to add wonky avocados and kiwis to the fresh range as it seeks to cut down on food waste.

Morrisons has committed to increasing its range of seasonally available Wonky fruit and veg by 50% by the end of 2018, taking it to 33 products, sourced from 22 countries.

"We have listened to customers who have told us they want to be given every opportunity to reduce food waste," said fruit and veg director at Morrisons Drew Kirk. "So we're providing a much bigger choice of naturally wonky or blemished products - so everyone can be involved in reducing waste and afford to eat more healthily."

The retailer also released its first ad push for the range, which went live on TV and radio yesterday (4 April).

It follows the Food Foundation's creation of a Veg Ad Fund earlier in the year to promote veg, while Morrisons is aiming to increase consumption of the five-a-day following research showing UK consumers eat on average 2.5 portions [Kantar, 2018].

As part of its promise, Morrisons has pledged to increase the number of farms from which it buys the whole crop to near 300. It previously committed to responding to farmers who have been affected by adverse conditions to help them sell produce wherever possible.

Morrisons launched its wonky veg scheme in 2015, taking oversized, undersized or misshapen fruit and veg and produce affected by other quality issues, including poor weather. It currently sells in excess of 500 tonnes of wonky produce per week.