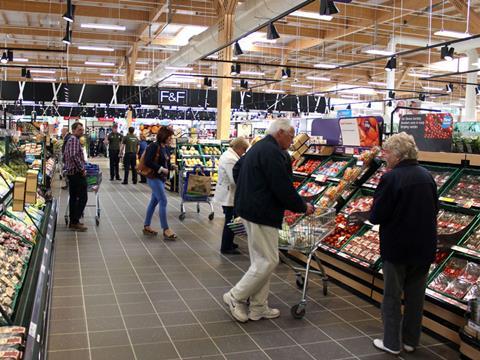 UK consumers are being won round by supermarket efforts to sell so-called 'wonky' fruit & veg, with Tesco's new Perfectly Imperfect range "flying off shelves", the retailer has claimed.

Two-and-a-half years after admitting to a House of Lords EU sub-committee on agriculture that it was struggling to shift misshapen fruit & veg because consumers "always pick the cream of the crop", Tesco UK commercial director for fresh food and commodities Matt Simister has hailed the Perfectly Imperfect range a huge success.

Launched with potatoes and parsnips in March, Perfectly Imperfect was extended to include apples and strawberries last month. Available in up to 900 Tesco stores (depending on the surplus), and priced at a considerable discount to standard lines, Tesco is already looking to extend the range to comprise 15-20 produce lines.

"We will roll it out to any fruit & veg where there is a surplus we feel can be sold rather than thrown away," Simister added.
See also: How to pledge your support for our Waste Not Want Not campaign

Sales have grown tenfold across the Perfectly Imperfect range since launch, with sales of the wonky apples trebling and parsnips doubling since they first hit shelves. Perfectly Imperfect strawberries - priced at 75 per punnet - now account for 10-15% of total category sales.

Tesco has achieved these results by lowering its previously tight specifications for fruit and veg in a "trade off" between quality and value.

This has enabled Tesco to increase crop utilisation and reduce food waste - one of the key aims of The Grocer's new Waste Not Want Not campaign, which launched last week.

Tesco is now taking 95% of strawberries, versus 85% of the suppliers crop previously, while its apple utilisation has reached 97%.
See also: Tesco's Community Food Connection redistribution programme helping to reduce waste

"The popularity of our Perfectly Imperfect range shows customers respond well to great quality produce at low prices," said Simister.

"Interest in so-called 'wonky' fruit and vegetables is good news for our customers, good news for suppliers and great news in the fight against food waste," he added.

Tesco is not the only supermarket redoubling its efforts to develop wonky veg schemes. Waitrose launched a range of misshapen produce under the 'a little less than perfect' strap in February, while the same month Asda made its misshapen veg boxes a "permanent initiative" in over 500 stores after receiving "amazing feedback" from shoppers.

"Our shoppers absolutely love wonky fruit & veg and we've seen sales steadily increase since launch," said Asda's technical produce director Ian Harrison.
This article is part of our major Waste Not Want Not campaign, which you can read more about here.