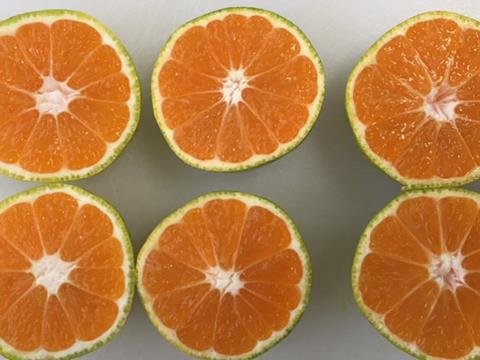 Tesco has claimed a UK first as it begins selling green satsumas and clementines in a bid to cut down on food waste.

The move was prompted by recent high temperatures in Spain where the fruit are grown, which has caused their skins to turn orange at a slower rate.

Growers had been putting fruit into a ripening room to accelerate the colouring process. However, the extra handling leads to a small amount of fruit being damaged and going to waste, said Tesco.

Tesco has decided to bypass the ripening room and bring the fruit to market in an unfamiliar green form.

"At the moment green easy peelers fall outside of the general quality specifications set by UK supermarkets but Tesco has made the leading move in order to cut down on food waste," said Tesco citrus buyer Debbie Lombaard.

"Removing a handling stage in the journey from farm to fork will mean shoppers gain extra freshness in their satsumas and clementines."

Relaxing its quality specifications to include the green fruit will result in an extended shelf life of up to two days, the retailer said, meaning less potential food waste in the home.

The fruit is to be sold as 'Perfectly Ripe Early Season Satsumas' and will cost the same as orange ones. Tesco offered assurances on taste, describing the fruit as "sweet and as juicy" despite the green skin.

Tesco has previously widened its quality specifications to include apples, pears, potatoes, cucumbers and strawberries with a wonky appearance as part of its commitment to reducing food waste.