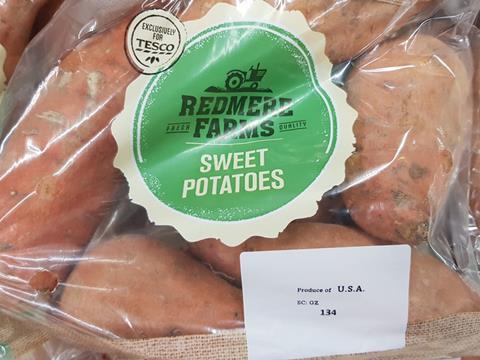 Tesco has ditched "confusing" best before dates on 70 packed fruit & veg lines, in a bid to cut food waste at home and in-store.

The supermarket giant rolled out its first SKUs without BBE dates last week, with 70 of its "more robust" fruit & veg items in the Farm brands range no longer carrying the dates, including citrus, apples, tomatoes, carrots, onions, garlic, potatoes and cabbage.

It's the latest in a series of moves by Tesco to cut food waste, and comes less than a fortnight after the retailer fell short of its ambitious target to eliminate all edible food waste from its stores by February 2018.

Use of best before dates has long been contentious as they are optional. Only in the case of pre-cut, peeled or prepared fruit & veg is a use-by date required as they could be exposed to bacteria, according to Defra rules. The same holds true for booze with an abv above 10%, breads, salt, vinegar and some confectionery.

But supermarkets have continued to use them in their fruit and vegetable ranges to maintain the highest possible standards, and this had led to customer confusion and, crucially, waste, said Tesco head of food waste Mark Little.

"We know some customers may be confused by the difference between 'best before' and 'use by' dates on food and this can lead to perfectly edible items being thrown away before they need to be discarded."

Wrap has hailed the move as "a good opportunity to learn about the customer response", calling on Tesco to share its findings as the results roll in, though it noted clarity of storage advice on-pack and in-store would be vital in giving consumers enough time to use their produce.

Tesco has introduced on-pack codes so staff know when the stock was first displayed, as well as new training, to ensure stock rotation and high standards are maintained. "Now, the colleague will look and if it's still nice, we will keep it on shelf, but if it's past its best it will be removed," said a Tesco spokeswoman.

"So if a cauliflower has gone yellow, for example, we're not going to be leaving it on the shelf," added Little.