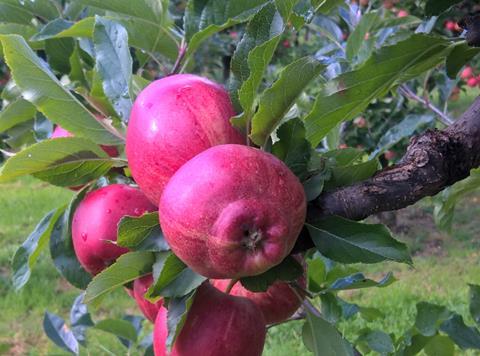 Tesco has relaxed the specifications on its apples after thousands of this season's crop were affected by frost during the spring.

Unseasonal temperatures dropped to -4C at the end of April in some parts of Britain. This caused a superficial fruit blemish known as 'frost ring' on many apples, which leaves a ring mark around the circumference or a large blemish on the skin.

Tesco said some growers would struggle to supply apples to supermarkets because of crop specifications that governed the overall look and quality of fruit & veg. As a result, it said would sell slightly blemished apples under its standard range, with the more blemished fruit sold as part of its 'Perfectly Imperfect' wonky fruit & veg range – potentially stopping thousands of apples from going to waste.

"We're working with our apple growers to use as much of the crop and prevent perfectly good fruit from going to waste," said Tesco apple expert John Worth.

"We want to support our growers wherever we can – and although some apples might be smaller or blemished, they still have the same great taste our customers expect," he added.

"Frost damage is superficial and usually confined to the surface," said James Simpson, MD of Kent-based grower Adrian Scripps.

"Often the flesh of the apple is unaffected, with flavour and texture remaining excellent. This is what many growers to a lesser or greater extent have seen this season," he added.

"Supermarkets have been very supportive in realising the damaging effect this can have on yields and growers profitability, hence many retailers have accepted an amount of frost damage either in their normal product lines. The industry as a whole is very pleased with the proactive approach taken by most retailers."
It comes as Tesco this week announced a major initiative with two dozen of its biggest suppliers to start publishing food waste data for their operations within the next 12 months.
The suppliers have also agreed to adopt the UN's Sustainable Development Goal to halve food waste by 2030.