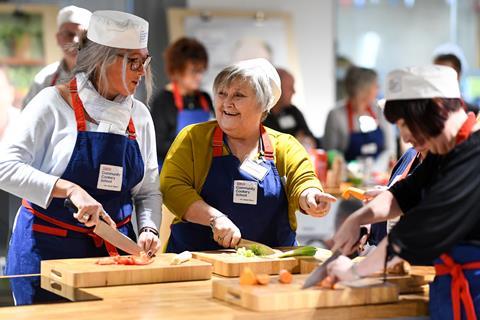 Tesco has slashed the amount of food going to waste from its operations by nearly a fifth, after introducing new measures to distribute surplus to staff and charity groups.

The UK's biggest retailer announced today that 44,297 tonnes of food went to waste in 2018/19, a fall of 17%, with the figure amounting to 0.45% of its sales.

Tesco said it was now 81% of the way towards its target that no food safe for human consumption goes to waste, though it had planned to reach the target by May last year.

However, the supermarket redistributed 63% more food to charities, community groups, colleagues and animal feed in the past year.

It said additional new measures included the introduction of 'Colleague Shops', which allow colleagues to take surplus food.

It also recently launched the Tesco Community Cookery School with Jamie Oliver, to help community groups who receive food waste donations make the best use of that food. The programme will offer training to more than 1,000 community volunteers through the year.
The figures also reveal Tesco halved the amount of food safe for human consumption going to energy recovery compared with last year.

"Reducing food waste is a global challenge: one in nine people are going hungry whilst a third of the world's food is wasted," said Tesco CEO Dave Lewis.

"This food waste has a huge environmental impact, creating unnecessary greenhouse gas emissions.

"Publicly reporting food data is crucial to delivering on this ambition. Our food data shows we're making progress in reducing food waste in our business. We set a challenging target that no food safe for human consumption would go to waste in our UK operations and we are now 81% of the way there. We call on other businesses to also report their food waste data; this is the only way that we'll know whether the UK and the world is on course to reach SDG Target 12.3."

Yesterday Lewis criticised the government's new strategy to tackle food waste.

Lewis, who is also chairman of the Champions 12.3 global sustainability group, said the new Step up to the Plate initiative launched yesterday by environment secretary Michael Gove risked being toothless unless it asked companies to publish their food waste data.

He also called for the industry to massively speed up the move to transparency, saying all UK food companies should publish their food waste data within the next 12 months.